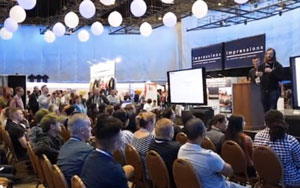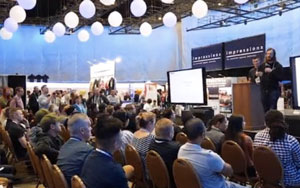 The Imprinted Sportswear Shows (ISS), recently renamed as the Impressions Expo, is an Emerald Expositions trade show. Held each year in Long Beach, Atlantic City, Houston, Orlando and Fort Worth, the shows are leading wholesale events for the decorated apparel and imprinted products industry. The exposition floor showcases the newest products, apparel and equipment featuring new technology, sublimation, and hands-on technique demonstrations.
For over 40 years, ISS trade shows have been attracting the most qualified industry attendees and buyers from all over the world. These shows are filled with top exhibitors ranging from apparel screen printing equipment, multi-head embroidery machines, direct-to-garment (DTG) printing options, heat-applied rhinestone designs, neon inks, performance stretch inks, sublimation equipment and much more.
New & Exciting Changes
ISS offers a conference program that starts with pre-show workshops and seminars from 9:00 am – 4:00 pm. This all-day format gives comprehensive learning on the subjects of Embroidery, Screen Printing, Photoshop, Apparel Business and Sublimation. Attendees can find many opportunities for questions and interactions with the in-depth coverage among other business owners.
The ISS Master Decorator Series
This one-of-a-kind series is one that you cannot miss. Offered only at ISS, attendees can learn the basics of each of the apparel decorating processes. Located at the Long Beach Convention Center, each course starts with a basic art class and is designed to take a single piece of artwork from raw materials to a finished product using either screen printing, embroidery, sublimation or heat printing applications. Many classes include hands-on training and personal attention for learning techniques. Attend four of the six sessions and you will receive your ISS "Master Degree" Certificate of Completion.
Grow in Knowledge & Networking
If you attend any ISS show, not only will you be able to gain insight on the newest decorated apparel products and services, but you will also meet with hundreds of top exhibitors and leading industry experts on the show floor. Each show has over 40 seminars and hands-on workshops featuring new techniques and products.
Shop Talk and On-Site Learning are different events on the show floor that are perfect for asking questions and receiving the best tips to increase your business. You can also stop by Happy Hour in the Shop Talk booth to meet and network with industry peers in a fun, relaxed environment. Make sure to visit the Conference section (impressionsexpo.com/conference/) on the ISS website to view all the seminars and workshops available to you during each show.
See 2020 show dates for all ISS trade shows on their website at impressionsexpo.com. You can also subscribe to receive updates for each show on any new events or products.
Impressions Expo Show
Tel.: 800-465-5514
impressionsexpo.com