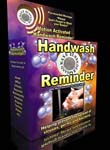 For Danny and Susan Pratts, cofounders of Pratts Creative Ideas, their current creation was borne out of being worried parents. "We have kids, and we were always reminding them to, 'wash your hands,'" Danny Pratt recalls. "We got to thinking how cool it would be if there were some sort of automatic recording that could tell the kids for us," he says.
Market research showed that no such product existed, so the Pratts invented their own device, the Handwash Reminder. "It's about the size of a small smoke detector and mounts right on the wall," Pratt says. "The unit is motion activated, and says, 'Please don't forget to wash your hands,' when someone walks by. It's more effective than a plain sign," he adds.
Wholesaling for $25 and retailing for $49.99, the Handwash Reminder has been a big hit in hospitals, doctor's offices and cruise ships. "We're just starting to market it to schools, but we believe it will find a willing audience in independent retail stores as well," Pratt says. There is no minimum, but orders of 1,000 or more can be customized with a specific voice recording, such as a hotel's name or a sponsor's message. "With all the worries about communicable diseases these days, we believe the Handwash Reminder fits in just about anywhere," Pratt adds.
For more information:
Pratts Creative Ideas LLC
5385 Dahlia Reserve Drive
Kissimmee, FL 34758-2292
Tel.: 407-592-7530
Website: www.handwashreminder.com