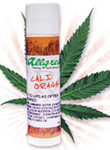 Allgreens Lip Balm is best described in one tongue twisting phrase: a new natural novelty. The company launched its business last year, with Hemp Seed Oil Lip Balm, a fun and natural healing product. The lip balm sells for $1.50 wholesale per tube, with a suggested retail of $2.99, and a minimum order of one tub containing 120 lip balms in an assortment of flavors. Volume discounts start at 50 tubs. Still caught up on the Hemp Seed Oil? That's what makes this product a novelty item. Each lip balm is distributed in tubes labeled to look like prescription buds, with six flavors named after popular strains of Hemp. It isn't medical marijuana, as it is missing the psychoactive THC ingredient, but rather organic Hemp Seed Oil, which contains many essential nutrients beneficial for skin.
Allgreens More Than Novelty, Also Natural
Suitable for all ages, Allgreen Lip Balm comes in the following flavors: OG Kush (original mint), Cali Orange, Watermelon Trainwreck, Bubblegum Kush, Sour Diesel (sour apple), Granddaddy Purp (grape), and original. Jennifer West, founder and CEO of Allgreens, reassures, "For those retailers or customers not interested in the novelty look of prescription marijuana buds, our original balm comes in a white tube with our logo." For West, the fun novelty item is all about education. After much experience in creating natural skincare products, Allgreens came about because of West's personal goal to educate on the benefits of using natural products. West says, "People buy Allgreens Lip Balm initially for the novelty of it, but once they use it and realize how well it works, they become loyal customers."
It's now more commonly known that what is applied to our bodies, especially our lips, is absorbed directly into our bodies. West advises looking at ingredients of other lip balms on the market, most of them toxic, such as petroleum by-products, salicylic acid, menthol, and artificial sweeteners, among others. Allgreens Lip Balm doesn't contain any of these ingredients, which have been known to further dry out lips, erode skin cells, as well as cause uncomfortable symptoms in your overall physical well being. Don't look past the benefits of Hemp Seed Oil, as it is anti-aging, fights skin inflammation, helps heal skin lesions, offers some protection against UV sun exposure, and contains moisture balancing properties. The oil is non-greasy, readily absorbs into the pores, and has rejuvenating and moisturizing properties for the skin.
For more information:
Allgreens
PO Box 9669
Alta Loma, CA 91701
Tel.: 909-945-2930
Website: www.allgreensRx.com