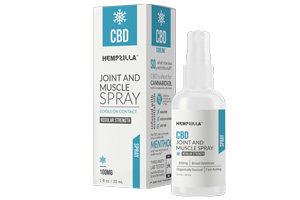 From the Rocky Mountain springs that sustain their organically grown hemp to their proprietary CO2 extraction process that removes heavy metals and impurities, Hempzilla offers some of the highest potency broad-spectrum CBD products on the market — and they have the lab results to prove it.
Your Go-To CBD Supplier
Hempzilla is celebrating six years of excellence in quality and customer support in selling top notch CBD tinctures, vapes, creams and gels, gummies, bath products, flower, pet tinctures, and more. They even won The Clear Review in 2020 for the Best CBD Brand for Potency and Transparency. Every step of their extraction and refining processes are designed to maintain the integrity and potency of the hemp flower that is put into their products, so they are not in the business of cutting corners to cut costs.
CBD Best-Sellers
Some of Hempzilla's best-selling products are their vaping pods, joint and muscle gel, hemp cigarettes, flow formula tincture, pre-rolls, fresh ink tattoo cream, and their nighttime bundle, which includes vegan gummies, a bath soak, and a tincture. All of their products contain:
No Preservatives
No Vitamin E Acetate
No Isolates
No Heavy Metals
No Harmful Synthetics
No Artificial Colors or Flavors
State-of-the-Art ISO-Certified Labs
Hempzilla was the first brand in the CBD industry to have FDA-registered GMP certifications, use organic practices, and built sophisticated ISO-certified, pharmaceutical-grade formulation and extraction labs. They are also one of the few companies that have a full-time PhD biochemist on staff to oversee all testing and ensure that their products contain less than 0.3 percent Delta-9 THC and are micro-bacteria-free. All of this information can be found in their lab reports right on their website at hempzillacbd.com. Give your customers some of the best CBD on the market and start selling Hempzilla today!
Hempzilla
hempzillacbd.com
973-435-8411