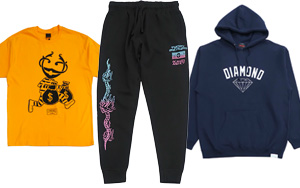 Offering brands such as Champion, Puma, Dreamland, DOPE, and more, it is no wonder that Steal Deal Inc. is known as "America's #1 Wholesaler." They have just about every fashionable piece of clothing that young men are looking for. Now, independent retailers can keep up with the competition with these fast fashion pieces.
New Merchandise Every Day
More than any other wholesaler in the U.S., Steal Deal Inc. offers all authentic brand name apparel for young men, with new products being uploaded to their website every day. With this many options, retailers will always have something new and exciting to offer their customers. They even have low order minimums, so for at least $300, you can fill up your store and restock along the way with new or popular items.
20 Years Strong
Making their debut in 2002, Steal Deal Inc. is celebrating 20 years in business. They are preparing all sorts of goodies dedicated to this new milestone for the company, such as incentives and deals. Two brothers started this business by offering closeouts and off price mens apparel. Over the years, they have shifted their focus to selling name brand urban streetwear and skateware. Steal Deal has come a long way, so they have a lot to celebrate. Check out their website soon at www.stealdeal.com to see all that they have to offer!
Visit Their Showroom
On top of shopping from their daily updated website, retailers can also visit the company's showroom located at 5716 Alba Street in Los Angeles, California. They host an open house each month, and this is the perfect time for smaller stores to see what Steal Deal has to offer, see and feel the clothing in person, and purchase a few pieces to try selling in your store to see how well they do. Give them a call at 323-581-8051 or 213-797-7379 for more information on visiting their showroom.