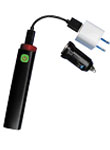 New Age Discoveries is dedicated to carrying products that reflect the brightest ideas in new products. The company recently introduced Light N' Charge portable emergency cell phone chargers and flashlights, available in standard and XL sizes. "Portable chargers are really hot this year," states Josh Eastman, company partner. "Light N' Charge solves the universal problem of a dead cell phone, and can charge a phone while in a pocket or purse. Everyone in the world needs to have one. It also can charge any USB device, including iPods, Nooks and Kindles, so it is really handy."
Light N' Charge units will power most cell phones up to two full charges, and the products are made of all aluminum construction. "The units contain rechargeable battery packs made by Samsung, which is the best battery available, and they can be charged hundreds of times. The sheer power of the XL, and the fact that both Light N' Charge products utilize Samsung batteries, truly set them apart from the competition," Eastman points out. The batteries are removable, and users can swap them out to continually have both a flashlight and charger on hand.
Light N' Charge XL shines 150 yards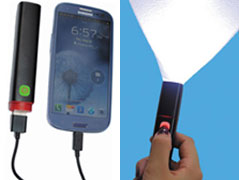 The standard model Light N' Charge will illuminate a room for up to 13 hours, and is available in black and silver. It wholesales for $15 each for 100 pieces, and retail is $40 and up. "This product is right on point with a well-known brand that sells for $50 to $60, and the quality of our product is better," Eastman reports. The 350 lumen Light N' Charge XL shines up to 150 yards and will last up to four hours. It is available in black. "The XL model is significantly brighter than anything on the market," he notes. The XL model wholesales for $25 each for 100 units, and retail is $60 and up. New Age Discoveries sells a kit that contains a charger, wall plug-in, car plug-in, spare battery and a three-way cable that charges all phones. The kit is available for both models.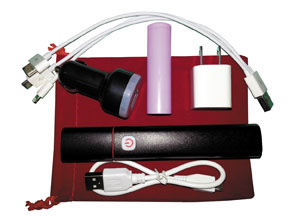 "Light N' Charge is really special because, instead of just carrying a battery pack, people have a fully functional product with a dual purpose," Eastman continues. "People love them. In a storm, if they are stranded or if their phone dies, Light N' Charge can be a lifesaver. They also make great gifts so people can give their family and friends peace of mind and security, too."
100 percent buy back policy
New Age Discoveries is so sure of its products that it has a no-risk policy. "We bring the coolest products to market before anybody else, and we will buy them back from merchants if they do not sell," Eastman adds. "We are making a fortune selling our products at trade shows, and now retailers can too. They either make a lot of money, or they can ship the product back to us with no restocking fees." While there is no minimum order, price is dependent upon quantity and drops significantly with increased volume.
New Age Discoveries
Tel.: 920-533-3579
Email: Online form
Website: www.newagediscoveries.com