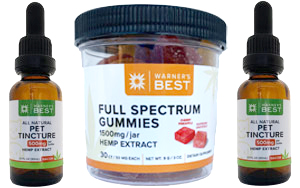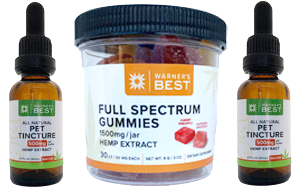 Consumers care about transparency when it comes to purchasing CBD and hemp products. They want to know exactly what they are taking and how it will affect their day-to-day lives. Warner's Best, a Connecticut-based CBD company, puts all of their lab results for each of their products on their website, in an organized manner so it is easy for shoppers to do their research.
Headquartered in Newington, Connecticut, Warner's Best offers a number of unique hemp-sourced CBD products that are designed to promote health and wellness. They make it their mission to offer merchandise at affordable prices, so everyone has the opportunity to experience relief from anxiety and pain, and to help get better sleep. Not only are their products manufactured from USA-grown hemp sourced by local farmers, but they are also vegan friendly and created in a GMP certified facility that is regularly inspected by the FDA
The Ultimate CBD Gummies
From tinctures and capsules to gummies and topicals, Warner's Best has something for everyone. One of the brand's best products are their low sugar pectin Full Spectrum CBD Gummies. With 50mg of CBD and about 5mg of Delta 9 THC per gummy, they deliver the same high quality effectiveness that one could find in a medical marijuana dispensary. Perfect for work, vacations, or on-the-go snacking, these gummies combine delicious fruity flavor with some of the world's finest CBD extract. They taste amazing, and are available for a low retail cost of only $45 for 30 gummies.
Specialty CBD Tinctures
Another great pick from Warner's Best are the specialty tinctures: Relief, Relax, and Sleep. The company starts with their full spectrum tincture (already with 25% secondary cannabinoids) which is then boosted with select secondary cannabinoids to target a specific effect. Their Relax tincture is 1000mg of CBD and 1000mg of CBG per bottle to help users stay calm and collected and get that uplifting boost they need to start their day. The brand's Relief tincture takes an additional step with a combination of CBD, CBC, and CBG. The CBC cannabinoid has been recognized to have powerful anti-inflammatory properties, so this combination can help users to manage their pain better. Each serving of this Relief tincture comes with 40mg of CBD, 26mg of CBC, and 13mg of CBG. Lastly, their Sleep tincture is a 1:1 CBN to CBD ratio tincture. Delivering 33mg of both CBD and CBN per serving, CBN is often considered the "nighttime cannabinoid," and is a powerful cannabinoid that is created by the oxidation of THC.
Amazing CBD Topicals
Do not be misled by the number on the container. It is the per ounce concentration that counts. Warner's Best offers two phenomenal menthol based topicals. Available in 2 ounce containers, at concentrations of 250mg or 500mg per ounce these fast acting creams feature menthol, camphor, arnica and eucalyptus. They also offer a fragrance free 1000mg 2oz. cream and 1200mg 2 oz. gel. All are amazing for long lasting relief.
Warner's Best provides safe and high quality CBD products at prices your customers will love. All of their merchandise is pharmacist-formulated, compliant with existing regulations, and produced in an FDA-registered facility. To see more of what the company has to offer, visit their website at www.warnersbest.com.