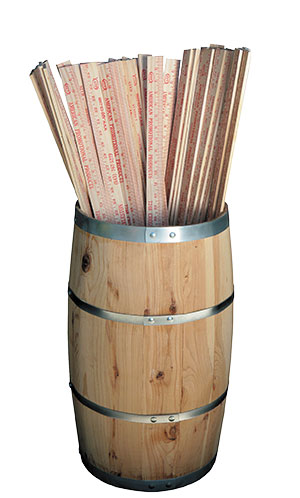 Not all yardsticks are created equal. American Promotional Products should know, as the creator of one of the most high quality yardsticks in the industry. "It's a unique product, and we call it our 'old time yardstick,'" says Mike Murray, marketing manager. "It's something you would have gotten back in the '40s when you went into a store. It's thicker, wider (¼ inch), and it's going to last forever." The quality of yardsticks has changed over the years, Murray notes. "Many manufacturers have cheapened them; they've gotten thinner, and you can even bend them back. Not ours."
With so many customers seeking out sustainable products, these yardsticks are also FSC certified (a program of Forest Stewardship Council), meaning they are created from woods that are forested using sustainable practices.
Custom products
Murray sees a wide-open opportunity for dollar store owners to carry the yardsticks as well. "They retail for around one dollar, so they're super affordable. They're perfect for point-of-sale displays, and come in a big barrel. They could also be sold in paint and carpet areas, crafts sections, and really throughout the store."
Custom promotional products are also great for tradeshow booths, direct mail campaigns, referrals and employee morale. "Promotional products are easily affordable – yet their impression is long-lasting and readily measurable," explains Murray. "We can put your logo on almost anything that you can imagine."
Family business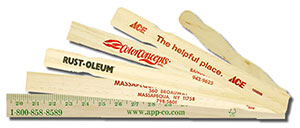 American Promotional Products is a family owned business started 30 years ago that still maintains a strong connection to its roots. The company began making paint paddles, and still does today. Millions of its products are sold in major home improvement stores.
The company is the leading supplier of paint paddles, rulers, yardsticks, and other promotional wood products throughout the US and overseas. APP continues to be a leading vendor for the paint, home improvement, and specialty advertising industries.
Buying details
The minimum quantity is 210, and the yardsticks can be custom printed with the retailer's name and logo in color, for no additional cost. At that quantity, the wooden barrel display is also included. Orders are processed and delivered quickly via phone or fax to the company's number.
American Promotion Products/American Paint Paddle Company
7240 Cross Park Drive
North Charleston, SC 29418
Phone: 1-800-858-8589, 843-767-5229
Website:americanpaintpaddle.com