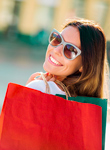 H&M opened their first store back in 1947 in the Swedish city of Västerås and over time grew to dominate the fashion industry, growing quickly and aggressively, rolling out one successful brand after another. Seen as a forward-thinking company, H&M added online shopping back in 1998, establishing the very first online market in Sweden. But, for the fast-fashion behemoth, it seems like lately they may have lost their forward-thinking mojo.
Recently announcing the closure of close of 200 stores in mature markets, the company pointed to an unpleasant surprise – the slower than expected sales in 4Q17 and a drop in in-store shoppers. This double-whammy caused the company's publically traded stock to drop to a 9-year low in January 2018. Citing the trend in ecommerce as the main culprit in the company's sales drop-off, CEO Karl-Johan Persson told Reuters, "In comparable H&M stores, performance was weak in many of our large mature markets. This development mirrored the shift in the market from offline to online, and also we have to say we haven't improved the shopping experience as rapidly increasing customer expectations require."
In response to their disappointing 4th quarter, and hoping to once again get back into positive growth mode, the global fashion and design company has announced the launch of Afound, a new retail concept chain that will be dedicated to selling discounted fashion and lifestyle products from the company's own brands, as well as those sourced from other recognized brands. The clincher in this new launch is the price point – every item sold will be at even lower prices than the company's already low-priced stores.
H&M corporate hopes the new launch will help to rebound the company's flagging sales. Finding themselves sitting on an abundance of overstock, the Swedish giant is jumping into the off-price arena, already populated by other retail heavy-hitters including Macy's and Nordstrom. Describing their new venture as "A style and deal-hunting paradise" Afound's Managing Director Frederik Svartling said "Afound cares about both the value of the products and the mix. And by offering personal style inspiration, quality labels, and the sense that you're getting a really good deal, Afound will offer a new form of off-price experience."
Launching online and with brick and mortar retail outlets in Sweden in 2018, H&M Group will expand their current retail footprint which already includes multiple recognized fashion brands, 44 online markets and over 4,700 stores located in over 65 markets. But the main question persists – will this new venture address the root cause of the H&M problem, tougher brick and mortar competition and the ever-expanding presence of ecommerce?
Industry experts and Retailwire Braintrust members weighed in, with Mark Ryski of Headcount Corporation commenting, "It's ironic that the brand that virtually invented fast fashion is suffering from the impact of a weekly fashion cycle. Fashion is fickle, and it's clear that H&M is not immune. Opening a deep discount concept to deal with overstocks seems like a prudent move given the amount of unwanted apparel that they produce. It's not a game-changer, but a reasonable strategy." Alternately, Brandon Rael of BR Advisory says, "While retail has had a resurgence over the past few quarters, the fast fashion segment was growing at such a phenomenal rate that an eventual drop or correction was inevitable. Retail over-expansion has been a reoccurring problem in recent years, and apparently even the fast fashion and affordable luxury areas are not immune to this challenge Additionally, H&M and other fast fashion leaders may look into assortment curation, and take a less-is-more approach with their go-to-market strategies."
Similarly, Art Suriano of The TSi Company agrees, saying, "I think H&M would do better streamlining their business, focusing on core products, what makes them different from their competitors and why customers should shop them. Opening another brand with deep discounts will only give some short-term success, if that, because customers today have too many choices. So my advice to H&M is to be different, be a leader and stand out as the brand the customers will want to shop — not just because of the price but because of the fashion and the value." Independent Retailer's Meaghan Brophy also offered her thoughts on the subject, noting, "Opening up an off-price branch for overstock will help bring in more revenue for H&M. But it doesn't address the core problem. Accurate trendcasting and manufacturing is a better solution. Streamlining their business and figuring out their true identity will solve the real problem."
Historically H & M has been quick to take advantage of the ever-changing retail tastes and modes of fashion, but this business model, at its core, relies on the economic basics of supply and demand. In the past, customer demand has always outweighed supply in the brick and mortar world, which allowed H&M to grow and dominate the fashion world. In the 21st century with the advent and explosive growth of ecommerce, suddenly the balance between supply and demand has been altered — drastically. Will the darling of Swedish fashion retail be able to reverse their trend by relying on their traditional business model — or not? Stay tuned.