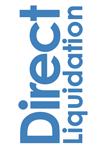 According to the National Retail Federation, almost 30 percent of consumers are planning to purchase electronics this holiday season. Considering last year's holiday sales totaled $658.3 billion, electronics are a huge part of holiday business. For retailers, there are several ways to get involved with electronic sales. For retailers looking to make the best margins on electronics, you may want to consider sourcing from closeout and liquidation wholesalers such as Direct Liquidation.
Direct Liquidation are reverse logistics experts. They take in customer returns, end-of-life overstock, and closeouts from tier-one brands, and resell the products across the United States and Canada. Michael Lawrence of Direct Liquidation explains, "We have exclusive contracts to liquidate the nation's largest retailers' surplus inventory. We have millions of dollars in inventory you can't get anywhere else." Direct Liquidation has a consistent supply of high-profile products, which makes them a favorite for many retailers.
Direct Liquidation is having sales and specials on electronics leading up to Black Friday and Holiday 2017. Following Apple's iPhone X announcement last month, Lawrence predicts Apple products with be especially popular this season. "Hot sellers this time of year always include the latest Apple products since their new product announcements generally trigger a flurry of buying activity. Where I see value is looking at the older generations of Apple products since there is always a big price drop when the new models are announced. This creates an opportunity for the smart buyer to find deals on older inventory which still sells quite well." He explains, "There are a lot of consumers who are happy to have an iPhone for 40 percent off regular retail price just because it's got a scratch on it."
In addition to just Apple products, "Smartphones, tablets and laptops are also very popular this time of year," continues Lawrence. "Since we sell refurbished goods there are always great deals to be had which can be passed on to your customers." Lawrence advises retailers should make sure to check out lower grade stock if you have a channel to sell it on. "The best deals and lowest competition can be found in the lower grades. EBay and offline channels are generally the best way to try to move this stock." Lawrence concludes, "You will need to work a little harder to find the proper price point for this stock but the effort pays off."
When it comes to purchasing closeouts, liquidations, and auctions it is important to manage your cash flow so that you can take advantage of new or unexpected deals. Lawrence explains, "Given the fluidity of the stock incoming and outgoing in general you want to be checking for inventory that matches what you typically sell to your clients everyday leading into the holiday season. You can't predict when the right deal will come along. Make sure you have a cash buffer so you can jump on a deal when it presents itself as the competition for desirable product starts heating up in September." To shop the auctions and to view additional buyer resources visit www.DirectLiquidation.com.