By Beth Elliott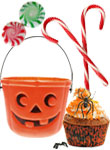 At this time of year, pop-up holiday gift and Halloween stores are helping commercial landlords fill in retail vacancy gaps and serve their customers with relevant seasonal products. These temporary relationships offer a way for business owners to dip their feet in the retail waters without being on the hook all year. No matter what type of business you run, you should create a seasonal strategy and set sales goals early in the year.
Prepare now
Prepare marketing materials and schedule your advertising well in advance of the season start. This way, you are not running around at the last minute, and you can take the time to measure responses to your marketing, leverage existing customers and adjust to any major changes over the past season.
Expand financing and cash flow
If you want to expand your services or product line, you may need to secure additional financing options. You can go with a loan through a bank or the Small Business Administration, and you can obtain a cash-back card that enables you to make money off your purchases. Keeping a good cash flow can help you adjust to any bumps in the road that come up during your selling season.
Complement your product line
You can increase your sales by finding products and services that complement your core product line, not compete against it. You may be able to partner up with other seasonal businesses to work together toward similar goals, or you can find products your target demographic would be looking for when they purchase your products.
Another essential part of keeping up with a seasonal business is knowing when to offload products from the past year. It is a no-brainer when you have something like a calendar store, but some business owners try to keep last season's products on hand instead of selling at a discount. In most cases, keeping old products around does not inspire a lot of new purchases, since your target demographic may have already picked up the items last year. Do not be afraid to take a bit of a loss on your products, as that loss is offset by the cost of storage if you take it all with you.
To learn more about cash-back cards, click here.