by Mackenzie Hurlbert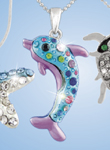 Cool Jewels by Phillips International Inc. offers wholesale jewelry for retailers worldwide, including an array of mood, Americana, and nautical themed jewelry. With an emphasis on fashion and quality accessories, the company is leading the jewelry and accessory market as a wholesale provider.
Paul Meyer, National Sales Manager, says "Cool Jewels has been serving the industry since 1976." Since their beginnings in September of that year, they have flourished into the wholesale giant they are today and have traveled to Paris, Tokyo, Milan, and Amsterdam in search of new designs and trends.
Cool Jewels sells an expansive array of jewelry and accessories, but Meyer says classic pieces like intriguing mood jewelry and USA spirit are always in demand. "Mood jewelry, shark teeth, rhinestone, bling jewelry, and shell jewelry are always very popular categories," notes Meyer. Along with these popular lines, the business also offers dinosaur and animal themed jewelry, leather jewelry, and biker jewelry. Their diverse products range from bullet necklaces and leather bracelets to glow in the dark pendants and friendship necklaces.
When it comes to jewelry trends, fashions come and go while a few key styles stay timeless and popular. "Some jewelry trends fade relatively quickly while others have a longer life," comments Meyer. "Bangle bracelets and Americana, for example, have been extremely popular for quite some time." When deciding on new product lines, Cool Jewels keeps creativity and the customer in mind. "We try to add new twists and ideas to keep the trends interesting for as long of a period as possible to help benefit our customers."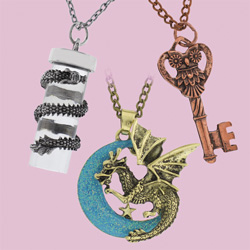 Cool Jewels goal is to enable their customers to drive incredible sales and profits. To do so, Meyer notes the company offers a wide variety of over 3,000 SKUs, updated on an ongoing basis, and the business offers quick shipping in as little as three to five days. Retailers who purchase from them also receive personalized service and support and a 15-day money back guarantee. Considering other wholesalers may not offer many support services for retailers, Cool Jewels makes an effort to provide the best experience for retailers, including free hang tags and pre-ticketing services if desired.
While Cool Jewels sells an array of bracelets, earrings, necklaces, rings, and accessories, they also provide retailers with unique counter displays and floor racks for merchandise. Buyers are able to develop site-specific product assortments and also pricing, which allows for a profitable 300 to 500 percent mark up. Overall the company prides itself on "being the company with whom it is easy and pleasurable to do business," says Meyer.
Almost forty years since its start, Cool Jewels continues to grow as a provider of wholesale fashion jewelry, and Meyers sees positive things ahead: "We see a very bright future for our business. The marketplace has been very receptive of our exceptional product designs, attractive pricing, wonderful margins and focus on providing outstanding customer service."