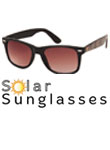 Sunglasses are popular accessories year round, as they are both functional and fabulous. Not only do they enable consumers to make fashion statements, they also can protect eyes from harmful UV rays. Solar Sunglasses carries 300 to 400 styles for women, men and children, including a line of biker glasses. "I've been selling some styles for six or seven years that are always popular," says owner Jay La Voe. "We also continually add new styles. We look at what celebrities are wearing, because that's where the trends get started. Ultimately, people buy what they like, and what looks good on them."
Wayfarers, Aviators, DG & XLoops
Wayfarers and Aviators have been popular on and off for several decades, and are trending again for 2014. "Today, animal, geometric and floral prints and neon color Wayfarers are in. For Aviators, colored arms and mirrored lenses are updated and popular," La Voe shares.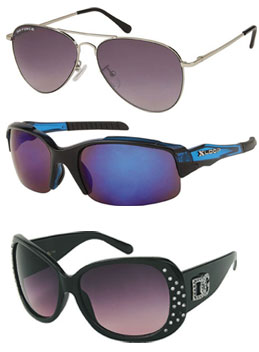 One of Solar Sunglasses most popular brands is DG, which comprises 80 to 100 models at a time. "DGs are top sellers because they are high quality and have the attractive DG logo. Women really like them," La Voe continues. "For men's sports looks, XLoops are strong sellers, and the LOC brand is very popular with men who like dark lenses. These brands offer a higher perceived value than ordinary glasses on the rack." Solar Sunglasses carries several brands and styles of biker glasses, which are generally a wraparound look that is padded to block the wind. The firm recently expanded its assortment of polarized lenses because people want to protect their eyes. It also carries printed party glasses, called "Fun Glasses," which have branding like Beach Blast and July 4th Fireworks. Fun Glasses also can be customized for fundraising or special events.
"Anywhere there are eyes, you can sell sunglasses," La Voe stresses. "They offer retailers low costs and high profits." Solar Sunglasses' models wholesale for $18 and up per dozen. "If retailers sell just two pairs at $10 each, they make the cost of the entire box back and the rest is profit," he notes. La Voe also suggests that retailers sell sunglasses with incentive pricing, such as one for $10, two for $15, and three for $20.
Customer care
La Voe has been in the sunglasses business for more than 15 years. "We believe in old-fashioned values, and enjoy helping our buyers," he notes. "We can tap into our database and tell them what is trending and selling in their ZIP code. I am very accessible, and buyers can always get me on the phone. Even if they want to place an order online, I will discuss their orders with them. I am not interested in a one-time sale, but in building long-term relationships. We believe our customers' success is our success."
There is no minimum dollar order amount, but retailers must buy at least one dozen glasses, which generally includes an assortment of lenses and colors. La Voe recommends that retailers start with around ten dozen styles to suit a variety of shoppers' tastes. Solar Sunglasses is presently offering a startup special of 12 dozen glasses (144 pairs) for $325, which includes a 36-piece counter display. The company will be exhibiting at Surf Expo, January 9-11, in Orlando, FL, at booth #829. It also will be at ASD Las Vegas, March 16-19, at booth #C2739.
Solar Sunglasses
440 Unit 1B Andbro Drive
Pittman, NJ 08071
Toll Free: 877-765-2732
Website: www.solarsunglasses.net