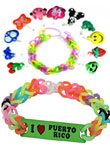 Personalized and customized jewelry is still hugely popular with consumers. Moreover, products that integrate the latest trends along with the name of a tourist location or attraction are especially hot sellers in gift and souvenir shops. "We provide retailers name drop jewelry, with sayings such as I heart Bahamas, I heart Boston and every place on the planet, that incorporates the latest fashions and is exclusive to Monster Trendz," says Matt Huusko, CEO of the company.
Stretchy and super fun loom links
The hottest, eat it up trend for kids today is loom links, 100 percent silicone bands that are manipulated with a hook on a little loom into bracelets and other jewelry. "Kids love it because they can make all kinds of designs, and it is an activity they can do with their friends," Huusko points out. "We are seeing a buying frenzy for the links, which we do in tie dye and neon colors. We sell the centerpieces, and kids can do all the rubber band work around the centerpiece, and we also make the bracelets. We have integrated crystals and various trendy designs as well as the name drop."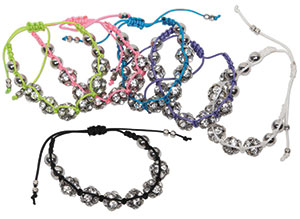 Neon bracelets are another strong seller, and they are evolving from a novel look for kids into a higher end style at a more mature price point. "At the fashion shows in Hong Kong, we saw neon corded threads and ribbons with gold plated chains, crystals and CZ. It is a very fresh look, and it is not just for kids anymore," Huusko reveals. These products offer retailers great margins with wholesale around $2 per item and retail up to $10.
Paracord jewelry has been extremely popular for a couple of years, Huusko adds, and Monster Trendz has incorporated name drop into the style. "Paracord will probably always be popular," he notes, "and with the name drop, it is great for tourist spots." Bracelets wholesale for $1 apiece, and retail for $3.99 to $6.99.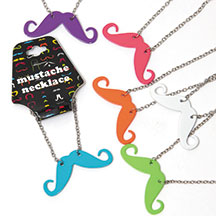 Name drop jewelry is popular because people like to share their experiences about their travels. "If you have a bracelet that says Key West, for example, you are announcing you went to Key West. Name drop products provide a way for people to interact and tell their stories," Huusko explains. "We have been phenomenally successful with the name drop programs we developed." The company now has more than a dozen name drop jewelry programs as well as a handful of gift programs.
Ordering highlights
The minimum order is $150. Stock items are shipped from the company's Dover, NH, warehouse within 24 to 48 hours. Custom orders can take from two days to six weeks for delivery. Monster Trendz also manufactures a full line of countertop and floor displays, either free with product or at a discount. The company offers a 15-day money back guarantee and a 30-day product exchange.
Where to buy:
Monster Trendz Inc.
Toll Free: 866-365-6425
Tel. / INTL: 603-617-2845
Website: www.monstertrendz.com