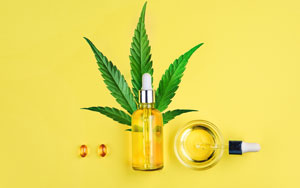 As CBD products continue to grow in popularity, the FDA continues to figure out how best to regulate these hot items. Dynamic Blending, a Utah-based cosmetic manufacturer, is the first manufacturer in the U.S. to receive certification from the U.S. Hemp Authority for high standards in hemp-related product manufacturing, and the co-founder has some tips for retailers to ensure the CBD merchandise they purchase is good quality.
"During the pandemic, we saw what happens when companies make a product that does not follow good manufacturing practices. Hand sanitizers had numerous recalls, and now the FDA is heavily auditing a lot of these small-time distilleries that had no clue the type of arena they were jumping into. They just saw the dollar signs and that was it," Gavin Collier, co-founder and principal of Dynamic Blending, said.
Certifications are super important for retailers to look for when sourcing CBD products from brands, according to Collier. There are different standards and quality requirements for different types of manufacturers, and that is why Dynamic Blending partnered with the U.S. Hemp Authority, because they saw the need for higher standards. Indie retailers should also be sure to check a company's certificate of analysis for each of their products so you know the ingredients that go into each batch, as well as how knowledgeable the manufacturer is of what they are making and the overall quality standards for creating CBD items.
In order to earn trust from your customers, it is super important to know exactly what you are selling to them and how the products are made. Most manufacturers should have quality standards and certificates of analysis right on their website, but when in doubt, give them a call to double check. Independent Retailer has done some of the work for you, so here are some hot and trending CBD merchandise from trustworthy suppliers:
Whether it be for a post-workout recovery or long-lasting daily relief, this beloved Relief & Recovery Body Cream is a lightweight, luxurious, and cooling CBD topical lotion created from the wisdom from the world's most time-revered botanical ingredients. Broad-spectrum CBD is paired with refreshing peppermint and menthol, hydrating safflower, and nourishing argan seed oils. Available in both 4 oz and 2 oz bottles.
Sagely Naturals
424-262-6614
www.sagelynaturals.com
Sometimes less is more. In fact, there are only two ingredients in this full-spectrum CBD oil—all-natural, pesticide-free, American-grown hemp, and MCT (coconut) oil. Careful processing allows Half Day CBD to retain essential cannabinoids like CBG, CBN and CBC, while natural terpenes provide light floral, citric, and herbal flavor notes. Unlike many CBD products for sale online, you can trust the quality and potency thanks to thorough third-party testing.
Half Day CBD
773-885-9305
www.wholesalecentral.com/halfda0001
Each tasty bite of sour ribbons will bring your customers into another world of relaxation and wellness. Each bite is dosed to perfection with 30 mg of Delta 8 within each edible. Pur Delta's in-house hand crafted terpene blend will give users the complete entourage effect they will not be able to find anywhere else.
Pur DeltA
833-810-5673
www.wholesalecentral.com/summit0002
With 1,500 mg per bottle, each gel capsule contains 25 mg of broad spectrum CBD. This is a great way to deliver CBD directly to users' guts and super easy for those who do not like taking oil or edibles. Each product is lab tested for purity and quality.
Restorative CBD
480-586-3000
www.wholesalecentral.com/restor0001
This CBD-infused King Kalm Soothe Spray was formulated to help pets with dermal abrasions, hot spots, and dry, cracked skin. Made with ingredients like aloe vera, tea tree oil, and chamomile, the Soothe Spray may control inflammation and protect against potential infections with no abrasive chemicals or hazardous ingredients. The soothing benefits of this dog itch relief spray can also control the urge to lick and scratch.
King Kanine
833-546-4738
www.wholesalecentral.com/kingka0001