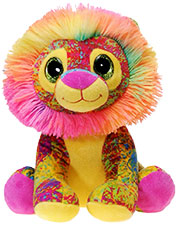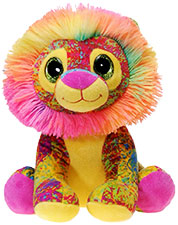 At Fiesta Toy, it's always a party! Featuring a wide variety of cute and snuggly designs, Fiesta manufactures just about any stuffed animal you can think of. From teddy bears to exotic animal plush toys, this brand has something for everyone. The sky is their limit, offering lovable stuffed animals in the likeness of real-life counterparts found on land as well as the sea.
Award-Winning Plush Toys
Fiesta Toy offers over 10 different stuffed animal collections, including The Real Ones, Cutie Beans, Scruffy, CB Gumballs, Rainbow Sherbert, and Pom Pals, just to name a few. Known for always coming up with new designs and pattern lines, Fiesta launched Rainbow Sherbet in 2020 and saw amazing results. Despite the pandemic, these plush toys sold out often and are very popular among consumers.
Quality, Value, & Service is the Fiesta Promise
Created in 1972, Harold Kleinman started Fiesta Toy in sunny California on the Santa Monica Pier. Initially, the company imported plush toys for games on the pier. Kleinman purchased closeouts to give as prizes and sold his excess to amusement parks all over the U.S. Their grand entrance to the retail market began when a manufacturing representative asked Kleinman for permission to sell the brand's products to retail, and steady growth followed.
Fiesta not only offers quality toys, but also competitive pricing, earning the reputation of being a trusted source and resource partner in the manufacturing of branded, private label, custom, and licensed plush. Some of their retail partners include Disney, Chuck E. Cheese, Cracker Barrel, Sea World, Hershey Park, and so many others. All of the company's toys are known for their designs that combine form and function.
In addition to the manufacturing of their popular products, Fiesta does custom and private label work for many clients. The company strives to meet the needs of their customers and end consumers, working non-stop to come up with the plush that everyone wants to take home while still sticking to their promise — Quality, Value, and Service.
Fiesta Toy
2834 East 46th St., Vernon, CA 90058
Tel.: 323-581-9988
www.fiestatoy.com