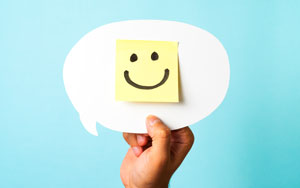 Even though the COVID-19 pandemic changed so many customer experience preferences, as we slowly recover and get back to normal, consumer desires continue to shift and retailers need to constantly keep up with these transitions. With the new year almost upon us, there are certain customer experience trends to keep an eye out for that will continue to thrive in 2022.
Shoppers Want to Know Brands Listen to Their Feedback
According to a study from Tidio, only 17 percent of customers believe that online businesses listen to their feedback, and 42 percent of respondents think that brands ignore their feedback all together. This means that the majority of customers think that businesses do not listen to their needs and opinions. If shoppers feel this way, that likely indicates that they will not purchase from that retailer in the future. In order to deliver meaningful customer experiences, you need to show them that they are heard and valued.
Customers Expect Personalized Experiences
Over the past years, there has been a dramatic increase in customer expectations for personalized experiences. According to GetVoIP, in 2013, only four percent of shoppers expected a personalized experience. This increased to 31 percent in 2017, and 52 percent in 2020. Ultimately, stellar customer experience can reduce the customer churn rate. If they are happy, they have no reason to leave — which directly improves your bottom line. Data shows that just a five percent increase in customer retention can increase profits by 25 percent to 95 percent.
Email & Text Offer More Personalized Experiences
Constant Contact's inaugural Small Business Now report revealed that 63 percent of businesses use social media to promote themselves online, while only 45 percent of consumers say social media is effective at grabbing their attention. Most customers prefer email (34%) and text messages (30%). "Consumers are more receptive to direct outreach. Social media ads and organic posts are cheaper and easier for brands to share with their audiences, but often occur when a consumer is not in a buying mode," Patrick Gillooly, Marketing Director at Constant Contact, said. "They are in more of a 'lean-back' mode — watching TV and surfing Instagram, for example. Emails and texts can be personalized, are easily searchable in an inbox, and appear in a setting where consumers are more likely to be purchase-oriented. It is easy to simply scroll past a promoted ad, but if you have captured your customers' attention with a text or email timed to when they are primed, they will have to think twice before walking away."
Have a Responsive Customer Support Team
The Tidio study also found that almost 79 percent of shoppers would not complete their order if the customer service was unresponsive. Fast customer service is expected to be a standard today, not a luxury. Phone, live chat, and social media messages are among the favorite communication channels. As far as how much time retailers have to respond before the shopper gets frustrated, about 44 percent of online customers believe that the average response time from customer service should be below five minutes.
The better you treat your customers and give them exactly what they want and need, the more likely it is that they will stick around for longer, providing value for your business over time. Independent retailers are the leaders in more personalized experiences, so keep that ringing true in the new year with these tips.