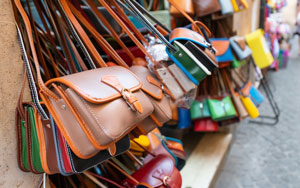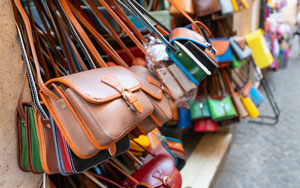 Over a quarter of American consumers have accidentally bought at least one counterfeit product in the past year, and 52 percent of U.S. consumers have lost trust in a brand after buying a fake product online. 32 percent of American consumers believe online marketplaces should be doing more to stop the purchase of counterfeit goods, but what, exactly, can retailers do?
Fake Goods Are Endemic
The sale of counterfeit items has been a problem for retailers for quite some time, and online marketplaces such as Amazon, eBay, and Etsy are constantly combating the sale of fraudulent goods. But it's not just an issue that affects mass merchants – it can also be a problem for independent shops purchasing from wholesalers who are unknowingly selling pirated goods.
"It is super important for retailers to protect themselves against fraud," said Daniel Shapiro, Director of Global Strategic Partnerships at Red Points. "Today, there are a number of different reports from the International Chamber of Commerce on how piracy is affecting about 1.9 trillion businesses, and is expected to reach 4.2 trillion by 2021."
Counterfeits Can Damage Your Brand
Counterfeit products can affect multiple segments of retail businesses, and ultimately impact the legitimate sales growth of retailers. Even if they don't know they are purchasing counterfeit goods, once a customer finds out what they bought was fake and spreads that information on social media channels, it can be very hard for a smaller retailer to recover from that backlash.
Counterfeits can also impact a retailer's Customer Service reputation. Should a shopper buy an item they think is legitimate but it tears or breaks and they send it to the original company to get a replacement, the real company will spot the fake and are not bound to support a product warranty or quality guarantee for an illegitimate product.
"I've seen where these instances happen to customers and they don't believe the brand, so they leave a negative comment on social media. A lot of brands suffer negative reviews on their customer care and warehousing time, and it ultimately impacts the sales and operations of day to day business," Shapiro said.
According to a 2019 Incopro/Sapio Research survey, 52 percent of consumers surveyed confirm unknowingly buying counterfeits will result in a loss of trust with that brand. Once a customer has lost trust in your brand, they most likely will never shop from you again.
How Can Retailers Protect Themselves Against Counterfeits?
The U.S. Department of Commerce and U.S. Chamber of Commerce recommend these easy steps you can take to keep your business safe from fakes:
Scrutinize labels, packaging, and contents.
There is no foolproof way to know the difference between a bargain and a fake, but labels and packaging can be revealing indicators. Look for missing or expired "use by" dates, broken or missing safety seals, missing warranty information, or otherwise unusual packaging. For larger purchases, such as mechanical or electronic equipment, seek reputable sellers and check serial numbers with manufacturer databases.
Be vigilant when buying abroad.
While many international businesses offer unique products that are unavailable or hard to find at home, in certain foreign markets counterfeit and pirated products are even more prevalent than in the United States. When shopping on international websites, look for trusted vendors that use identifiable privacy and security safeguards and have legitimate addresses.
Get samples first.
Many wholesalers allow you to request samples first before making a bulk order purchase. Even if you have to pay a small fee for the samples, it's still better than paying for a whole load and realizing after the fact that the product is fake. Always be sure to ask for samples before you purchase from a new distributor.