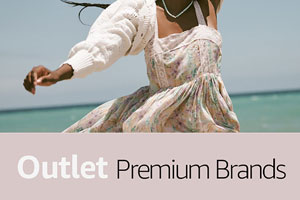 Just as the retail conglomerate continues to do with online sales, Amazon is reimagining in-store shopping with their new Style Outlet. Offering a seamless and elevated shopping experience, customers can use the Amazon app and scan an item's QR code to see different sizes, colors, overall customer ratings, and additional product details. Now, indie retailers are wondering how they can keep up with this new and innovative purchasing environment.
How Can Small Businesses Compete?
"Success for retailers requires creating and maintaining a seamless customer experience across digital and brick-and-mortar platforms," Julie Petit, Partner at Mazars, said. "As such, ecommerce has to become an essential component of any retailer's strategy. Achieving the right balance requires both strategy and an appropriate ecommerce tech stack. As a small retailer, it is important to lean on your consultants and business partners for advice here. For example, check if anyone offers an ecommerce expert team and a deployment offering for a full omnichannel customer experience, like Mazars does."
Petit also advises small businesses to put customer data to good use. Personalization is a crucial success factor for any retail brand looking to build long-term customer loyalty, and these strategies all have one thing in common — they rely on data and lots of it. Especially in the age of increased regulatory oversight on data protection, like Europe's' GDPR, it is essential for retailers to provide personalized experiences while also designing systems that keep customer information secure and private. Missteps can cost a brand dearly in time-to-market, regulatory fines, or (far worse) a damaged reputation – and we all know the elephant in the room is what Amazon does with our data after we shop, according to Petit.
Offer More Than Just A Personalized Experience
The biggest aspect of Amazon's new Style Outlet is the fact that even while in the store, shoppers can do everything from their smartphone. With the tap of a button, they can add an item to a fitting room or, if they do not need to try it on, send it directly to the pickup counter. The whole experience is based on more than just personalization — everything is easy and seamless from the moment a customer walks through the door to the moment they leave. When considering how to compete with this new way of shopping, Jeppe Dorff, Chief Product and Technology Officer at Clickatell, says that it does not come down to the in-store experience, but instead, how seamless and personalized the communications and digital transactions are after.
"According to a recent report, 79 percent of shoppers use chat apps daily," Dorff said. "Facebook Messenger is by far the most common, with 88 percent of respondents saying it is the main chat app they use on their phone. When competing with a giant that operates in both physical and digital realms, small retailers need to find scrappy ways to match both experiences. Implementing Chat Commerce provides brands with the ability to meet consumers where they are, with timely and relevant information, and even allows consumers to make transactions via chat."
According to Dorff, a Chat Commerce platform will provide digital tools a brand needs to connect, interact, and transact with their customers in chat, enhancing their day-to-day interaction in the stores, such as:
Utilizing messaging and notifications, such as a bank sending a customer a credit card transaction verification alert, which is much less intrusive or inefficient than a robocall or an email
Providing back-end system integration and orchestration complete with a chatbot and agent desk enabling a bank, for example, to communicate with customers interactively to pay store card balances or check out new inventory, versus calling an 1800 or help number line
Supporting API payments and digital transactions capabilities. This can enable businesses to securely accept payments in chat messaging by sending consumers a payment link via SMS or WhatsApp.
Transparency is A Huge Factor
"Today's consumers are not just demanding increasing levels of personalization, but they are also looking for transparency regarding what they are buying, supply chain practices, and sustainable options," Petit said. "Retailers can put data-driven practices to good use and keep a leg up on competitors by providing clear reporting on how they operate and the good that they are doing in this competitive world."