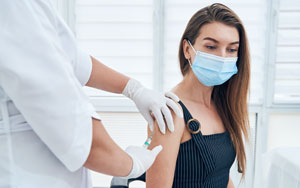 On September 9, President Joe Biden announced a series of proposals to combat the COVID-19 pandemic more aggressively, including new federal safety regulations that call for businesses with more than 100 workers to require vaccinations against the coronavirus. This will affirm mandates already in place at many companies and give cover to employers that have yet to decide.
Marissa Mastroianni, an associate at Cole Schotz, says that DOL's Occupational Safety and Health Administration (OSHA) would have the ability to fine non complying businesses up to $14,000 per violation. Even though the details on the fines are still unclear, with regulations becoming stricter, it is super important for indie retailers to prepare to comply with mandates as soon as possible.
Be Proactive With Your Policies
"The impact from these regulations will be very large on the retail industry," Mastroianni said. "Retailers fall under two buckets: 1 — any retailer that has already enacted either a soft mandate, such as getting vaccinated or getting a weekly testing, or a more hard mandate such as the requirement to be vaccinated unless you have a disability or religious reason, and 2 — any retailer that has not enacted any type of policy."
It is understandable for retailers who do not meet the 100 worker minimum to not have any plans in place regarding COVID regulations, but you always have to think ahead and plan for when your business may be next. Mastroianni says retailers who fall into the second bucket have two options: be proactive and work with council to adopt a policy now before emergency legislation is issued and then review it to ensure compliance, or hold off and wait until a standard gets issued and go from there.
Vaccine Mandates Bring Up Privacy Concerns
There are pros and cons to being proactive or waiting, but very large retailers will have a harder time enacting a policy like this since they have more employees to worry about. In order to be prepared, indie retailers should get an idea as to how many of their employers are vaccinated as of today. Asking for an employee's vaccination status is legal under the law, according to Mastroianni, so if a retailer sees only 90 percent of their workers are vaccinated, there is still work to be done, but they can feel a little better and know that regulation will not be as big of a task.
Some privacy concerns that come up with the vaccine and weekly COVID testing mandate are employee medical records. Besides the proof of vaccination records, the COVID test results themselves are also medical information. All of these records need to be treated confidentially and kept separate from personnel files, and should only be discussed between the business owner and the employee.
Punishment for Not Complying
Mastroianni says it is still unclear what the enforcement will be for the new mandates since OSHA is not heavily staffed and the federal agency has limited funds, which means there are not enough investigators to be on top of every business in the country. She thinks the enforcement will mainly be employee whistleblowers, so if a company is not complying, workers will complain and initiate an OSHA investigation. OSHA has the ability to initiate a $14,000 fine per violation, which is also unclear, because no one knows if it is per person who is not vaccinated or being tested weekly, or if it is per day you do not enforce the policies.
"I think this emergency temporary standard is not going to just be about vaccination, but will also include various workplace safety standards, which may include potentially masking and cleaning standards," Mastroianni said. "So I think employers need to be prepared that the regulations may go more broad."