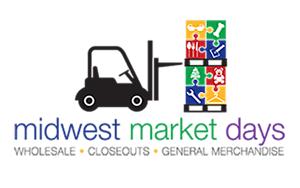 It is that time for retailers to start stocking up on products for the new year. No matter what type of merchandise you are looking for, Midwest Market Days has a supplier for you. With thousands of direct import and closeout items from more than 50 quality vendors, this trade show offers a one-stop, convenient buying atmosphere for buyers across a variety of categories.
Midwest Market Days' next event takes place from December 5-7, 2021 in Illinois. These are "trade only" events and are open exclusively to qualified retail and wholesale organizations. Retailers can find products in every category including toys, health and beauty, collectibles, housewares and home decor, textiles, licensed products, religious, fashion accessories, electronics, and so many others.
What Sets Them Apart
At Midwest Market Days, each buyer is greeted personally by trade show staff. Attendees are then supplied with a detailed exhibitor list, showroom floor plans, and other show-related materials to make your experience easy and comfortable. A continental breakfast and buffet lunch are also served daily during each event, and a free shuttle service is available to ensure all buyers are able to get to and from the participating showrooms and their hotels with ease.
COVID-19 Precautions
The trade show is taking enhanced health and safety measures to keep guests and employees protected. This includes temperature checks prior to entry, the required use of face masks, limited occupancy in showrooms, the frequent sanitization of all common areas, hand sanitizing stations throughout each building, individually wrapped lunches, and appointments with vendors is highly recommended to minimize waiting times.
Be sure to check out their December trade show taking place in three participating locations:
Regent Products Building
8999 Palmer Street
River Grove, IL 60171
Tel.: 708-583-1000
B&G Sales Building
1750 N. 25th Avenue
Melrose Park, IL 60160
Tel.: 708-343-9200
The Bazaar Inc.
1900 N. 5th Avenue
River Grove, IL 60171
Tel.: 708-583-1800