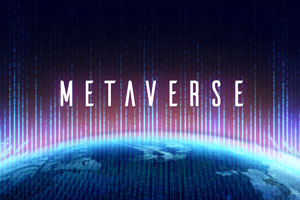 The metaverse is the epitome of marketing — rebranding a collection of existing technologies with an intriguing new name. As the new hub aims to intersect consumers, influencers, brands, and live online events through VR and AR, 2022 will be the year for retailers to find new and creative ways to reach shoppers through the metaverse.
Bridging the Gap Between In-Person & Online Shopping
According to Ali Fazal, VP of Marketing at GRIN, the metaverse comprises three distinct features: Number one is that it is completely virtual reality where consumers can engage with one another, virtual shopping malls, and brand creators. The second part is augmented reality, which is just like the real world but with an extra layer of personalization to it. So now when shoppers purchase a pair of sunglasses, they will see billboards with those glasses or the same brand. The third is more like a layer that lays on top of what we already live in, such as filters that consumers use for photos and videos. This allows brands to offer virtual try-ons for clothing or accessories on their website.
"The ability to use augmented reality to provide a more personalized experience is something that brands have been doing for a while," Fazal said. "Warby Parker and others are big on virtual try-ons, and it is also a huge benefit to those brands who do not have a big store presence since consumers can better engage with them online as they would in person. The ongoing pandemic makes it better for the online metaverse because it bridges that gap between in person and online."
How Consumers Are Shopping in the Metaverse
Some 70 percent of all consumers who have shopped online in a virtual store have made a purchase in one, according to 'The Metaverse Mindset: Consumer Shopping Insights,' a new study from Obsess. The study was designed to gauge consumers' perceptions of and demand for virtual shopping experiences in the metaverse, a market opportunity that Bloomberg Intelligence estimates will reach nearly $800 billion by 2024. The survey also found that 60 percent of respondents think that brands should sell their products on metaverse platforms.
Among Gen Zers who think brands should sell in the metaverse, 54 percent reasoned that consumers should be able to shop anywhere they go online, while 45 percent indicated that metaverse environments should be like online shopping malls. In addition, almost half of these Gen Zers said brands should sell in the metaverse because it gives customers a convenient place to buy digital products like NFTs (non-fungible tokens), as well as physical products. The Obsess survey also found that one-third of all survey respondents, including 40 percent of Gen Zers and 40 percent of millennials, would be interested in shopping for real or virtual products in metaverse environments that brands create.
"The emergence of new technologies and immersive features like VR and AR are quickly gaining traction, particularly among Gen Z and millennials," Jamie Gilpin, CMO of Sprout Social, said. "Younger shoppers are embracing these features to make purchases, which has spurred an uptick in conversations related to this new modality of shopping. Retailers who take note of this change have an opportunity to leverage these emerging trends to enhance the customer experiences, and even help combat labor shortages or supply chain issues. As the Metaverse continues to take shape, retailers should expect increased interest and adoption of creative approaches like virtual showrooms and try-on features that will further impact the retailer-consumer relationship."
Predictions for Metaverse Marketing in 2022
Metaverse will become even more of a buzzword the further we get into 2022 as everyone tries to jump on the hype train. Tim Parkin, who specializes in helping marketing teams better perform, has some marketing predictions regarding this new online universe:
Follow the big brands because they have both the resources and the need to be constantly pushing the boundaries of innovation.
We will see several stunts, performances, and influencer collaborations demonstrating and promoting the future of the Metaverse.
While everyone is watching the big brands do ridiculous stunts, pay close attention to the gaming companies.
Brands like Epic Games, the creator of Fortnite, and Unity have been building the foundation of the Metaverse — immersive and interactive games — for decades. Their unique insights, experience, and capabilities will be a key driver of the innovation and marketing of the Metaverse in 2022.
Amazon is the sleeping giant that will surprise everyone in 2022.
From the creators of the Amazon Echo and the infamous Fire Phone, it is a guarantee that Amazon will be one of the most important entrants into the Metaverse race.
Meta will dominate the marketing and conversation by integrating and promoting their slice of the Metaverse through the existing platform and partners. Meta will also lay the foundation for other players to participate, namely big brands who want the benefits and exposure without the risk of building their own.