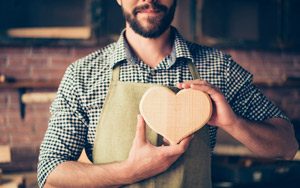 Ecommerce giant Amazon has a special section for Handmade items on their website. Featuring Artisans from over 80 countries around the world, this newer section is intended to give small businesses a chance to reach more customers and will offer a wide variety of home decor, jewelry, accessories, gifts, and more. The question is, should you sell on Handmade at Amazon?
Just like Etsy, Handmade at Amazon is an artisan only selling space, which means that each item is handmade by the seller. Although Amazon seems to be a little more strict than Etsy, claiming that they go through an artisan application and audit process to ensure everything is genuinely handcrafted. Etsy, on the other hand, allows sellers to design their own products and use production partners to help with the building process.
Can You Sell on Handmade at Amazon?
Do you make customizable items or unique one-of-a-kind products? If so, then this is something you might want to start thinking about. But before you go heading over to Amazon's website, let's break down the pros and cons of selling on Handmade at Amazon, and if it's even worth it.
Handmade Benefits
The benefits of selling on Handmade at Amazon is it's artisan only, so you won't be up against other sellers who are using production partners to help them make their products and thus creating more of a competition. All of the sellers you will be up against are offering genuinely handcrafted goods.
There are "no hidden fees," according to Amazon's website, so joining Handmade, creating your shop, and listing products is completely free. When you make a sale, Handmade will deduct a 15% fee.
If you currently have, or previously had, a Professional selling plan, you might be eligible for the free Professional selling plan, if you are a seller who sells primarily on Handmade and does not sell more than 40 non-handmade products in categories other than Amazon Handmade. Artisans who sell more than 40 non-handmade items in different categories will be charged $39.99 per month, so if you're in that category you might want to rethink about applying.
Joining Handmade also gives you a custom profile with a custom URL to make it easy for customers to find your shop. This is perfect for indie retailers just starting out, either all-together or in the handmade business, so you have somewhere for your customers to shop online.
Should You Sell on Handmade at Amazon?
Compared to Etsy, Handmade's fees are higher. They charge a 15% commission and $1 minimum referral fee, according to Amazon's fee schedule. Etsy only charges a 20-cent item listing fee and 3.5% commission.
It's also important to keep in mind how many handcrafted items you sell or are planning to sell. Amazon will wave the Professional selling plan fee, which is currently $39.99 a month, but only if you sell under 40 handmade products. After that, you will be billed monthly.
It's A Good Starting Point
Handmade at Amazon sounds like it's a good option for small, independent handcraft sellers who are just getting started in the retail business. Not only will they wave the selling plan fee, but you can also take advantage of Fulfillment by Amazon (FBA), which allows Amazon to ship your orders so you can focus on creating new products.
It also helps to get your business name out there. For independent retailers just starting out, it can be a dizzying process dealing with all the small details and figuring out how or where to sell your products. You can apply for Handmade at Amazon here.