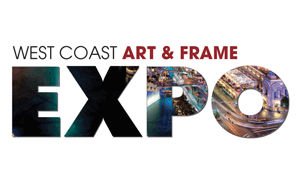 Designed to be a one-stop shop for all things art and custom framing, the West Coast Art & Frame Expo is an annual event held in Las Vegas every January. As the largest B2B industry show in the US, the expo has earned a reputation for being the best place to source products, network with buyers, and take advantage of the many offerings of a four day conference.
The WCAF Expo attracts a broad range of buyers coming from varying marketplaces. Retailers, wholesalers, digital printing shops, and other creative professionals come seeking revenue-generating tools, the latest trends, and other resources that will keep them a step ahead of their competition. "Our goal has always been to provide our attendees with everything they need to achieve success, no matter how they define it," says Deborah Salmon, trade show director.
The expo is proud to feature exhibitors ranging from leading manufacturers, distributors, publishers and suppliers showcasing their latest products and equipment. "Our attendees know that this is a rare opportunity to see new product launches, demonstrations, and the largest variety of vendors in one place. It truly is the annual event that can transform your business forecast for the year," says Salmon.
Running in conjunction with the WCAF Expo is The National Conference, which offers world-class education with over 120 seminars and hands-on workshops. The conference provides education exclusively for the art and framing industry, whether you're a beginner or seasoned professional. Session topics range from framing techniques, design trends, and retailing strategies to social media, marketing, accounting, digital printing, and more. If you're interested in learning about custom framing, looking for new business opportunities, or are a wholesaler in search of new ideas, The National Conference has the tools you need to take the next step on your path to success.
Upcoming Dates: The West Coast Art & Frame Expo and The National Conference
Trade Show: January 27-29, 2020
Conference: January 26-29, 2020
Rio All-Suite Hotel and Casino Las Vegas
Tel.: 732-536-5160
Email: info@wcafexpo.com
www.wcafexpo.com