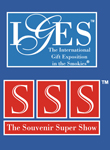 The International Gift Exposition in the Smokies(r) (IGES) hosts its eleventh annual Gift Expo, November 3 – 7. The staff and management of IGES and The Souvenir Super Show (SSS) thank all attending buyers, vendors and others for the exceptional and enthusiastic support they have shown over the years. In 2000, with only 272 booths and barely more than 3,000 buyers, IGES was small but successful from the start. Now with over 1,000 booths available in 2010, IGES/SSS has become the largest wholesale souvenir, resort and gift expo in the United States. Everything the show management does to make the IGES/SSS show bigger and better is all about putting buyers' best interests first.
In 2007, after seven years in multiple show locations in both Pigeon Forge and Gatlinburg, the show moved into its beautiful new home in the Sevierville, TN Events Center, providing buyers and vendors with the convenience of having all exhibits in one location and on one level. The rapidly growing souvenir portion of the expo was recently given its own identity, The Souvenir Super Show (SSS). The IGES division will continue to highlight both the resort and gift lines that have repeatedly drawn national recognition.
With the show in Gatlinburg changing dates this year, buyers will again experience two great shows for the price and convenience of one trip. The 2010 IGES/SSS runs Wednesday, Nov. 3 through Sunday, Nov. 7. With the overlapping dates of the two shows, one in Sevierville and one in Gatlinburg, buyers can allow extra time to cover the many new and traditional product lines on display.
Again this year, IGES/SSS will be hosting national buying groups, including ZAG (Zoo and Aquarium Gift Buyers), the NCA (National Caves Association), and NARB (National Association of Retail Buyers). Large or small, all retailers are welcome and invited to join the festivities in November, celebrating the shows' 11th year in the Smokies. Take advantage of the many buyer amenities and discover The Largest and Best Souvenir & Resort Gift Expo in America.
To learn more, visit www.iges.us, call 800-430-7608.