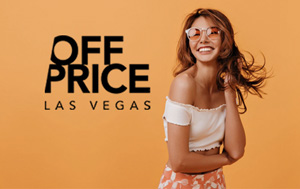 Despite COVID-19 continuing to threaten live events and gatherings, OFFPRICE Las Vegas hosted a successful show at the Las Vegas Convention Center from August 7-10. Hundreds of retailers and exhibitors alike safely gathered all under one roof to partake in a much-needed buying experience and establish long-lasting relationships.
"We are pretty pleased with how things went for us," Tricia Barglof, Executive Director of the OFFPRICE Show, said. "Pre-registration numbers for attendees were strong, not only for returning retailers, but we also saw really strong new registrants. At the end of day four, exhibitors had met a lot of new customers and it was still good business."
The OFFPRICE Show is the leading B2B, order-writing trade show, featuring quality merchandise in the latest styles and trends, at value-based pricing that cannot be beat. Exhibitors offer everything in apparel, footwear, and accessories in all categories for men, women, and children — attracting retailers from major retail chains, small boutique owners, international businesses, and everyone in between.
Since the state of Nevada is once again mandating face masks for everyone in public, each guest at the OFFPRICE show wore a mask. Other safety measures at the event included wider aisles and line monitors for proper social distancing, as well as signage all over the venue encouraging guests to not shake hands and keep socially distanced. With these measures, retailers and exhibitors were excited to show up and help to grow their business, proving that in-person events are not dead.
The next OFFPRICE show will take place on February 13-16, 2022 at the Las Vegas Convention Center in Nevada. More information will come soon regarding the event, but be sure to keep an eye out so you can be a part of this lively experience and see the latest trending products on the market.
OFFPRICE
www.offpriceshow.com