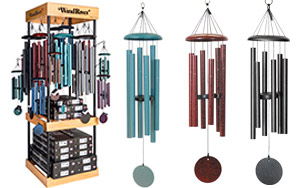 We are in the final days of summer and consumers across the country are savoring the final stretch of breezy summer nights, enjoying time outdoors with friends and family, and relishing moments in the garden they have labored over all season long. There is no better time to add an elegant wind chime, which is the perfect finishing touch to any outdoor space.
Hand-Tuned & Handcrafted
in Virginia
Wind chimes from Wind River help to create those long-lasting memories of sitting on the porch in the summertime, surrounded by friends and family. Inspired by nature and designed to make the natural world even more inspiring, their chimes are made in Virginia and influenced by the shores, mountains, and valleys they call home. Every color palette is a walk in the woods, every chord is a choir of birds across the bay, and every breeze brings with it renewed beauty, mystery, and wonder.
The Corinthian Bells wind chime collection is Wind River's best-selling collection. Available from a whopping 78 inches down to 27 inches long, there is a wind chime that suits any outdoor space. Each chime is made out of aluminum, which makes them lightweight and weather resistant, but when it comes to pitch and resonance, each alloy has its own unique characteristics. The company also offers a variety of other collections, including Arabesque, Shenandoah Melodies, Arias, and more, each with their own particular sound.
Innovative Displays
On top of Wind River's amazing wind chimes, they also have unique displays that allow consumers to see the beauty of each piece without the hassle of opening and closing boxes. These product displays come with multiple hanging racks at the top to display the wind chimes, along with two shelves at the bottom for the boxed merchandise. This allows consumers to see and hear each item, and then grab the corresponding box to whichever product they want.
Passionately Pursuing Harmony
All of these items and more can be purchased from Wind River. For more than 30 years, they have studied and perfected what they call the "Science of Sound." Their chimes are individually handcrafted and hand-tuned for exceptional precision and lasting beauty. From the shape of the components to the materials they use, every detail is tested and engineered to deliver superior resonance and tone. To view more of what the brand has to offer, visit their website at www.windriverchimes.com.
Wind River
Tel.: 800-345-2530