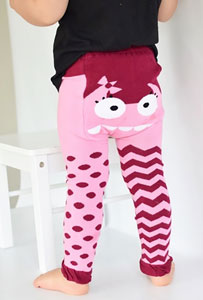 The U.S. children's wear market is valued at over $70 billion. This means if you're not selling childrenswear, you're certainly missing out. No doubt, growing kids need new clothes, and high sales numbers are partly due to parents simply keeping their children in clothes that fit. But, childrenswear is also becoming increasingly fashionable. There are Pinterest boards, Instagram feeds, and other media dedicated to looks, trends, and fashions for kids.
The spring is as good as time as any to consider adding childrenswear and baby products to your store. It's not just parents that purchase these products, but many gift-givers as well. Spring is full of occasions like baby showers, baptisms, birthdays, and more. Be a true one-stop gift-shop for your customers by incorporating baby and childrens apparel.
Easy Merchandising
In addition to being cute and visually appealing, baby and childrens products are also small, stating the obvious, but that means they are easy to merchandise and don't require a lot of floor space. Make sure to carry a full range of sizes from infant through ages 10 -12. Since children do grow so fast, if you limit yourself to a specific size or age range you are also limiting your customers' lifespan. To keep customers coming back again and again, make sure you have a selection of apparel that will fit their growing child throughout all points of their childhood.
Doodle Pants
One of our favorite childrenswear products are Doodle Pants. Doodle Pants are designed to stand out. Colorful shapes, loud patterns, and playful characters are part of every clothing piece. Their signature leggings feature various monsters, dinosaurs, and animals, many with the creature's features enlarged over the bum.
In addition to quality designs, Doodle Pants pays close attention to the details that make children's clothing unique. Their leggings are cut to fit over cloth diapers, their shirts don't have the scratchy tags that irritate babies' skin, and all bodysuits have easy on and off snaps.
Doodle Pants
www.DoodlePants.com
Bambini Infant Wear
Bambini Infant Wear offers an exclusive luxury layette collection of premium 100% cotton interlock garments and accessories. Bambini offers classic styles with detailed embroidery, unique prints and soft pastel colors, which are perfect for spring. Best-selling product categories include baby suits, infant sleepwear, hats, robes, hooded bath towels, and more. Bambini offers custom and private label infant garments as well.
Bambini Infant Wear lines incorporate fresh, modern, fashion-forward prints, embroidered garments, and accessories for infants and toddler boys and girls. In addition to 100% cotton, they use microfiber, fleece, and thermal, organic fabrics. Bambini pride themselves on updating collections every season with new fabrics, styles, and fashionable items.
Bambini
Tel.: 800-509–4702
www.bambinilayette.com
Bottom Line
Children grow out of their clothes roughly every six months. Nine out of ten moms will spend more on their children's wardrobes than their own. But, that doesn't mean they are splurging on every item. Parents are investing a lot of money into their kid's clothes, just not on individual pieces. Children's and infant clothes are so frequently outgrown that most parents don't invest a lot in a single item. So, for many shoppers, price is the ultimate factor in purchasing decisions. That means retailers need to be conscious of price while still providing fun and eye catching high-quality quality pieces.