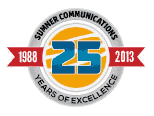 Sumner Communications, Inc. is thrilled to announce the merger of our publications, Web Wholesaler Magazine and INDEPENDENT RETAILER, to form a single, strong and comprehensive monthly magazine and website. The new INDEPENDENT RETAILER will continue to feature the vital wholesale business news and product information that store owners depend upon, and will now include the addition of several new and expansive sections aimed at all things Internet, especially buying and selling online.
With the natural blending, you now have one definitive monthly resource- in print and online- to help effectively manage and grow your business. INDEPENDENT RETAILER is proud to be the official publication of WholesaleCentral.com, the web's original wholesale directory.
Now in our 25th year, Sumner Communications continues to be the industry leader in B2B publishing for independent retailers of all kinds, and will continue to bring our readers the quality reporting expected from all of our brands.
We are excited to join these two trusted publications and look forward to the breadth of opportunities the merger will bring to our readers.