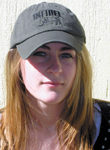 With patriotism running high, it's a good time to be in the wholesale flag business, according to Andy Fuqua, operations manager at Ruffin Flag Company. "We actually got started about 20 years ago when there was no Internet," Fuqua says. "Confederate battle flags were rare back then, and we did good business with them, selling to groups like the Daughters and Sons of the American Revolution," he adds. Today, Ruffin Flag Company does a brisk business not only in flags, but also with thousands of other patriotic themed items. "We sell to gift shops, Army-Navy surplus stores, resellers, flea market vendors, fairs, festivals, military stores such as PXs, historical groups and more," Fuqua says.
A visit to RuffinFlagCompany.net shows a wide variety of items at deeply discounted prices. "Our best sellers are anything with USA branded on it," Fuqua says. The items range from lapel pins and hats, to 30' x 60' American flags. "Our Confederate items are a close second in sales, and we're also moving a lot of patriotic items like, 'Don't Tread on Me,' and, 'Liberty or Death' flags," he adds.
Ruffin Flag has just rolled out a new line of items, all branded with the word, "Infidel," in response to the word terrorists use to describe Americans. "We've only been carrying them for a few months, but we are getting a huge response," he says. "The hats, flags, mugs, and bumper stickers are all selling really well." The Infidel flags wholesale for $2 each and retail for $10. The hats are fetching $10 to $12 at retail, but are only $4 each wholesale. "We've also got Infidel mugs that come with a matching 12" x 18" flag. They wholesale for $5 and retail $10 and up," Fuqua says. Another fast seller is the Infidel bumper sticker that wholesales for 50 cents each, and retails from $2 to $3.99. "If you're selling to an American audience, we've got what you want," Fuqua says.
For more information:
Ruffin Flag Co.
314 Water Street
Washington, GA 30673
Tel.: 706-678-9090
Website: www.ruffinflagcompany.net