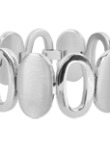 INOX Jewelry is proud to announce its 2011 winter catalog, a 40-page book packed with all newest designs and styles, and offering the latest wholesale stainless steel jewelry for men and women.
Available to all INOX Jewelry wholesale customers, the catalog shows off many designs predicted to become popular trends for this year. For women, bold and attention-getting bracelets, earrings and pendants appear to be the latest vogue, and INOX exhibits a range of selections in the catalog to satisfy customer demands. Retailers can also find in the catalog women's jewelry with stunning incorporations of colors, textures and gemstones for those that want variety and choice.
For men, the catalog will display an array of neo-heraldic/modern tribal collections, innovating design with the manipulation of shape and materials. A particular spotlight for men's jewelry is the new set of designs for cobalt chrome rings, which is believed to become one of the best alternative accessories this year due to its superior durability, high luster, scratch resistance and hypo-allergenic qualities.
INOX Jewelry customers are invited to get their own copy of the 2011 winter catalog, which will be available at INOX's booth at the SJTA trade show in Atlanta March 5th through 7th, and at the Smart Jewelry Show in Chicago from April 2nd through 4th. For more information on how to get the latest INOX Jewelry catalog, go to www.inox-us.com.
INOX Jewelry, a brand of Salesone International, consists of more than 1400 different 316L Stainless Steel and Cobalt Chrome jewelry pieces in a variety of styles for both men and women. INOX Jewelry's strong points come from providing high quality affordable products that appeal to almost any customer base around the world.
For More Information:
Salesone LLC / INOX Jewelry
151 Woodward Avenue
Norwalk, CT 06854
Tel.: 203-356-9077
Toll Free: 866-507-2537
Website: www.inox-usa.com