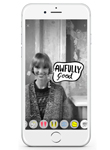 The latest iPhone update, iOS 11, comes with augmented reality built in. The iPhone uses ARKit, a framework that allows you to easily create augmented reality apps and experiences for iPhone users. Augmented reality is technology that superimposes computer-generated images onto a user's view of the real world. In other words, if you are looking at your phone, you will see the room in front of you with images and graphics that you can move around and have control over. This new technology unlocks a whole new selling platform for both brick and mortar and online retailers.
Big retailers such as IKEA and Burberry have already launched AR shopping apps. IKEA's app allows users to place furniture in a room and get an understanding of how it would look in their own home rather than imagining how it would when online shopping or in-store. The app also allows shoppers to get up close and personal with the piece of furniture so no small details go unnoticed. Burberry's take on AR is very different. Their app allows users to decorate pictures and spaces with "Burberry inspired" drawings and then post the creations to social media. Both retailers use of AR are unique. They are just a few of the possibilities AR gives to retailers.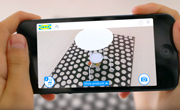 Online retailers finally have an outlet that bridges the "touch and feel gap" between their products and customers. Shoppers being able to see products in their own space and getting a better sense of their dimensions and appearance is an exciting new development for ecommerce sellers. Brick and mortar retailers can also use AR to reach a new set of customers. Using AR to recreate a cool in-store display in a shopper's living room may entice them to visit the shop and see how else you have decorated and set up your merchandise. Retailers, both online and off, can use AR to increase personalization. Burberry lets users create their own artwork and retailers can run with this idea, letting consumers design outfits, room décor, and other items that can be personalized. AR can also be used to create a showroom for specific products. Online and in-store, it is not always easy for retailers to highlight one specific product without jeopardizing others, but with AR, anything is possible. The beautiful thing about Apple's ARKit is that it is simple to use and therefore designs and ideas can be altered and created constantly.