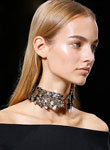 Spring 2014 Fashion Week introduced an array of eye-catching accessories including lots of bold, bright and funky necklaces, bracelets, and earrings. Some of the hottest jewelry designs to step off the runway and into your store this season will showcase lots of metal, in body chains as well as stacked cuffs, and materials like Lucite, feathers and more.
Radiant Orchid is Pantone's 2014 Color of the Year 2014 so expect to see it in all kinds of jewelry. Yellow gold, gold plate, and yellow-colored bronze will also be on shoppers' must-have lists. The following are a few designer looks that retailers may soon find transformed into real life versions.
Necklaces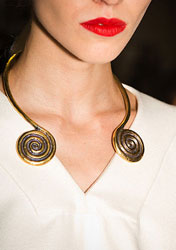 With necklaces this season, the bigger, the better. Woven chain chunky chokers and Egyptian style coil necklaces are a big trend. Colorful, three-dimensional necklaces are another hot look, and appear more like a work of Picasso. Look for extra large chains and body chains that span the torso with colorful beads and gemstones landing midriff. Sensual boudoir inspired jewels, thick strings of beads, and layered beads will make a statement. Pendants will again be popular with new themes such as Medusa, the zodiac, animal heads, birds, bees and butterflies on the scene. For the more daring, you will see giant pieces that resemble a casually worn headphone around the neck. New feather chokers add a soft touch.
Bracelets
Bracelets are big this year, and stacking boxy cuffs is a top trend. Colorful reds, yellows and greens, in artsy Lucite, are another hot look. Coiling bracelets will span the wrist to forearm, as well as powerful metal warrior cuffs. Crystal embellishments, touches of fur and simple bracelets with charms offer shoppers more options.
Earrings
This season, earrings do much more than dangle. From gold fronds and medallions, to unusual looks like safety pins, they enfold the entire ear. Edgy ear cuffs aren't for shrinking violets, but they will offer jewelers more opportunity for sales. Lucite earrings in spring's top colors will also find their way into retail shops. Shoppers are expected to continue their love affair with Swarovski colored crystal earrings as well.
Stickpins
With all the lapels in spring clothing lines, some predict they will serve as perches for stickpins. These slender pieces can be chic yet very affordable, making them a popular seller with many consumers.
Spring is the time for a color comeback, and 2014 stands not to disappoint. From power chokers to subtle stickpins, retailers will have a variety of jewelry options this season.