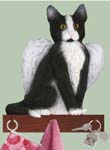 KC Creations, based in Ohio, is a wholesaler with a full line of pet themed products, and is now offering an extension of one of its best sellers. "When I bought the company a few years back, they had a nice line of cat door toppers," says Ken Cleveland, president and owner. "I liked the creativity they had, so I added a line of dog door toppers as well," he notes. "It's a fun, creative business." Now Cleveland has taken the door toppers one step further and made them into leash and key holders, by adding three pegs to each one, so pet owners will always know where their leashes and keys are. "Our full line includes 60 different dog breeds and two cats," Cleveland says. "The best seller is the French Bulldog, followed by the Pug and several other smaller dogs."
All of KC Creations' leash and key holders are hand cast in plaster from the company's own design, and each is then airbrush painted by hand. "Each one comes with a picture wire embedded into the cast itself for easy hanging," Cleveland says. The leash and key holders wholesale for $12 each, which retailers are selling for $25 to $28 apiece. KC sells to a wide variety of outlets, including mom and pops, resort areas, gift stores, pet boutiques and even feed stores.
"We don't sell to the major chains, as most of our customers are independent retailers," Cleveland says, adding that KC Creations' website has around 1,000 pet themed items in total. The company is also having great success with, "pet onboard," signs, which wholesale for $1.55 and retail for $4. The signs can be shipped within 24 hours, but the leash hangers take about five working days, as they're all hand painted. "All our products are made right here in the U.S.A.," Cleveland adds proudly.
For more information:
KC Creations
8526 Innsbrook Lane
Springboro, OH 45066
Tel.: 937-748-8181
Toll Free: 800-223-6369
Website: www.kccreationsinc.com