PPE SUPPLIES
FaceTory Dreamy Jelly Hand Sanitizer
Containing 75% alcohol to eliminate 99.9% of harmful germs without overdrying the hands, this product is infused with citrus essential oils to offset the pungent scent of alcohol. It also includes other beneficial ingredients to keep hands clean, moisturized, and soft. It's a skincare product and a hand sanitizer in one.
FaceTory
www.facetory.com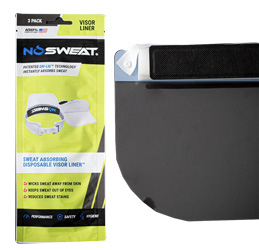 Face Shield Liner
NoSweat's patented design and Dri-LID technology are engineered to absorb forehead sweat and clear users' line of vision. Their game-changing technology permanently locks and seals all sweat inside the core, allowing the surface of the product to be completely dry, even when it is fully saturated.
NoSweat
nosweatco.com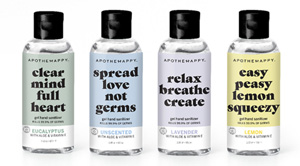 Gel Hand Sanitizer
Made in the USA, this gel hand sanitizer contains aloe and vitamin E to keep hands from cracking and getting too dry. They come in four amazing scents including Lavender, Eucalyptus, Lemon, and Unscented. Purchase a 24-piece assortment and it comes with a free display.
DM Merchandising
Tel.: 800-548-6784
www.247dm.com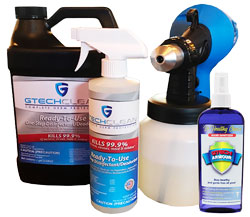 GTech Clean
GTech Clean is able to kill 99.99% of bacteria and viruses including human coronavirus, influenza, mildew, mold and more. The EPA approved spray leaves a microscopic protective barrier on hard and soft surfaces that continues to kill bacteria and viruses for up to five days and can easily be sprayed by workers or the in-house cleaning team. Users just spray the area they want to disinfect and let it air dry.
GTech
Tel.: 310-909-7795 ext. 2
gtechprotection.com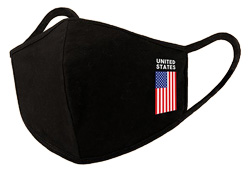 Reusable Face Masks
These reusable and washable face masks come in packs of 10 and have three layers inside for the ultimate protection. At only 0.99 cents per unit, retailers can sell these to their customers for super cheap and still make a good profit. They also come in a variety of prints and colors.
HYFVE Inc. Double Zero
hyfveme.com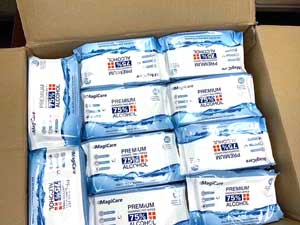 Cleansing Wipes
Five Star 5 LLC has boxes of cleansing wipes readily available for purchase. Whether you need supplies to keep your counters wiped down or just want to offer them to your customers, these wipes can get shipped and to your store ASAP.
Five Star 5 LLC
Tel.: 424-666-4109
www.wholesalecentral.com/fivest0001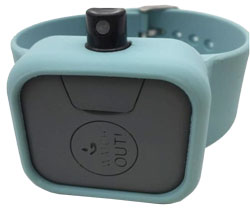 WATCH OUT!
WATCH OUT! is a patent pending, highly effective tool in helping to keep the hands of adults and children germ free. It is a wearable sanitising spray in the shape of a watch. Pack includes a stylish watch band with a filled cartridge of 85% alcohol sanitiser, a spare cartridge and a full bottle of sanitiser liquid.
Watchout Sanitizing Products Limited
Tel.: 917-256-9061
www.watchout.group
LOTION
Gloves In A Bottle
This shielding lotion bonds with the outermost layer of skin, locking in natural moisture and oils to help prevent dry and cracked skin from washing all day long. It also provides relief from psoriasis & eczema as well as prevents skin allergies and irritations.
Gloves In A Bottle
Tel.: 800-600-1881
www.glovesinabottle.com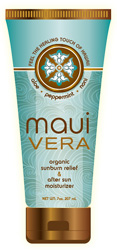 Maui Vera
One of the downsides of enjoying the beautiful summer sun is the sunburn that can come along with it. Maui Vera uses a special Hawaiian formula to heal sunburns fast and includes all-natural and organic ingredients. This will be the first product your customers reach for when trying to heal their sunburns.
Maui Vera
Tel.: 415-938-7808
www.mauivera.com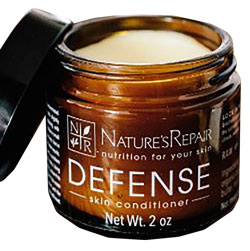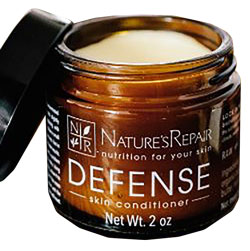 Defense Skin Conditioner
Made with safe, all-natural and organic ingredients, this nourishing skin cream helps to relieve chapped, weather-torn skin while providing natural protection from a variety of elements all year. It's also great with nourishing dry skin from over washing and sanitizing.
Nature's Repair
Tel.: 833-762-8873
www.wholesalecentral.com/nature0003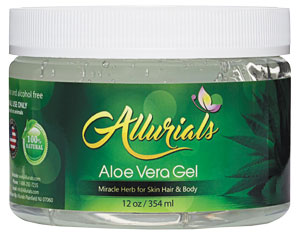 All Natural Aloe Vera Gel
Don't let nasty sunburns ruin the rest of the summer for your customers. This aloe vera gel is made with 100% pure, organic aloe vera gel. It helps to heal and hydrate dry, itchy, and damaged skin and hair.
Allurials
Tel.: 888-292-7235
www.wholesalecentral.com/alluri0002
BATH & BODY
Shampoo & Conditioner Bars
Shampoo and Conditioner Bars have become increasingly popular and are easy to use. Customers can take care of their hair and the planet, since no plastic casings are used for these bars. Available in a wide variety of scents.
Doerfler Mfg Inc.
www.doerflermfginc.com
BEAUTY
Detoxifying Facial Peel
This Detoxifying Daily Peel is a unique complexion-perfector. It removes surface toxins, peels away layers of dirt and impurities and facilitates detoxification through exfoliation.
Donna Bella Cosmetics
Tel.: 818-709-1407 ext. 407
www.wholesalecentral.com/donnab0001
FOOTWEAR
Crew Compression Socks
Rocca Sock offers a cutting-edge true graduated lab tested and certified compression technology to improve leg health. For those who have to stand all day long and are constantly on the move, these socks can help deliver the support they need.
Rocca Sock
Tel.: 800-889-3306
roccasock.com/wholesale
CBD
CBD Herbal Teas
One of the best ways to help relax and ease the mind is by drinking some tea, and these CBD teas from Sky & Wyatt are made with all-natural and organic ingredients, vegan, non-GMO, and gluten-free. Let your customers choose between Take Charge, Turn On, or Be Still, each infused with 50mg of CBD per serving.
Sky & Wyatt
skywyatthemp.com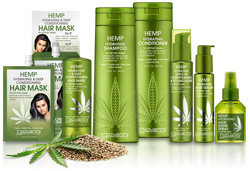 Hemp Hydrating Hair Care Collection
Each product in this innovative collection offers a synergistic combination of hemp seed oil, aloe vera, frankincense, turmeric, sage, hops, and chamomile, each with their own revitalizing features. This collection has shampoo, conditioner, leave-in conditioner, hair serum, shine spray, and deep conditioning hair masks.
Giovanni Cosmetics
Tel.: 800-563-5468
giovannicosmetics.com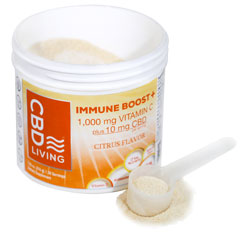 CBD Living Immune Boost
This new immune booster will help give the body's natural defenses a helping hand. Combining a refreshing natural citrus flavor with 100% organic US-grown broad spectrum CBD extract, Vitamin C, Vitamin D, Beta-glucans, Zinc and other key nutrients, this supplement powder can be added to any drink.
CBD Living
Tel.: 800-940-3660
cbdliving.com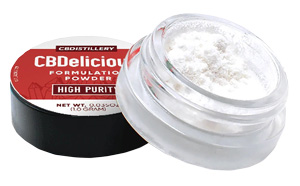 Formulation Powder
If your customers are looking to unwind during their next virtual happy hour, they'll want to say cheers to this new Formulation Powder that can be mixed with fun cocktails all summer long. Simply add a little bit to the drink, and have the ultimate relaxation experience.
CBDistillery
www.thecbdistillery.com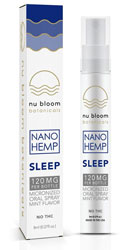 Sleep Spray
This sleep spray helps to fix the woes of not being able to fall asleep. Free from harmful toxins and pesticides, discover the organic hemp extract oral spray sleep remedy that leverages the healing powers of the hemp plants with traditional sleep aid ingredients to help your customers fall asleep faster and stay asleep longer.
Nu Bloom Botanicals
nubloombotanicals.com
WELLNESS & NUTRITION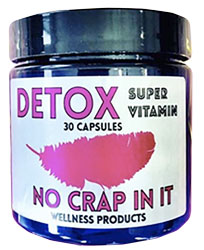 Super Vitamins
This supplement was created to help give your customers the energy, endurance, and internal health to increase their physical activity and assist with their diet. It promotes muscle growth, improves the metabolism, and stabilizes blood sugar, among many other benefits.
No Crap In It
Tel.: 281-543-7840
www.wholesalecentral.com/nocrap0001