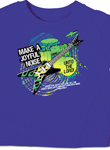 Kerusso, the premier U.S. producer of Christian themed apparel, is a big operation covering ten acres in Berryville, AR, with over 65,000 square feet of manufacturing, shipping and office space. Creating more than two million individual products annually, Kerusso has attracted major media attention and made a huge impact with its philanthropy and advocacy. That product range does have a guiding idea: portability and everyday use. "The main focus of Kerusso is to offer products that people can take with them during their daily lives to reach out to people," says national accounts manager, Kyle Sweatman. "So the majority of our items are apparel items: adult tees, specialty tees, junior tees, kid's tees, and hooded sweatshirts. We also have accessories, tools, buttons, toys, and music related merchandise, including guitar picks, drum sticks, and guitar straps, just to name a few."
Catering to Kiosks
But this wide ranging and big selling company makes a point of catering to kiosk customers. According to Sweatman, "Depending on the season, we have between ten to 20 kiosks that exclusively offer our products, and another five to ten that offer our products as a portion of their kiosk." The company offers several policies designed to lift kiosk retailers specifically. Says Sweatman, "Because weekends can deplete inventory so quickly, we guarantee that if an order is placed before 11 a.m. Central Time on Monday, we will get the order to the customer by Friday of the same week. We also offer free shipping on orders of only $250, which allows special orders to still be a profitable business practice."
In addition to fast replenishment and free shipping, Kerusso has a particular program tailored for kiosk customers. Part of the program is a money back guarantee. "Our kiosk / cart program is a complete money back guaranteed program," says Sweatman. "So if this program ends up not being as profitable as the customer would like it to be, they can send all of the product back to Kerusso for their money back." That lets customers return stale product and replace it with the hot sellers. "We allow kiosk customers to return slower selling product throughout the year for a credit to their account, so they can bring in new and top selling designs," says Sweatman.
This also means a customer can buy product with the intention of selling as much as possible, and then return the surplus. In fact, the company actually encourages customers to work the system in this way. "This also is helpful if a customer is just interested in offering our product for the busy holiday season," elaborates Sweatmen. "If someone is interested in just doing this business as a holiday kiosk, then they can return all the products they purchased that is remaining at the end of their season for a refund."
Kerusso also backs up its kiosk customers with sales advice, a point of company pride. "One thing that Kerusso takes pride in is the support we have to offer when it comes to helping retailers to merchandise the product," says Sweatmen. "For example, our apparel display is designed to present the Kerusso tees like artwork instead of just a T-shirt. Customers that have used our apparel display have found significant increase in their sales, primarily because of the intriguing way it presents a large amount of product in a very small amount of space."
With decades of retail experience, the company has an excellent sense of what sells and what doesn't. For kiosks, apparel is king, and gift items come next. "Our apparel designs are what really capture the attention of the customers during that very small window of time, say three seconds, as they walk by the kiosk," says Sweatmen. "Our apparel is typically about 85 percent of what Kerusso sells at kiosks."
Kudos, Contributions and Community
Of course, Kerusso sells to a wide range of retailers, large and small, and it is for good reason that the company has earned a range of accolades. For the third straight year, "Inc.," one of the nation's premier business magazines, has named Kerusso to its Inc. 5000, an exclusive ranking of the nation's fastest growing private companies. Kerusso is regularly listed in the top 30 of the annual Top Volume Decorators by "Impressions," an apparel trade magazine. The company earned a 2010 Partnership Award from Family Christian Stores, a 2009 Accessories/Apparel Christian Retailing Retailers Choice Award, and a 2008 Best Booth Staff CBA Impact Award.
That speaks to the company's excellence in business, but Kerusso prides itself on making a contribution to the community and the wider world. Following the beliefs of its founder, the company supports tithing and donates to many charities wholeheartedly. After the 9/11 attacks, Kerusso gave $20,000 to the American Red Cross and the Salvation Army. Over the years, Kerusso has donated hundreds of thousands of dollars to churches, organizations for young adults, women's shelters, and disaster groups, to name a few. The company also takes its eponymous mission seriously, as well. The name, "Kerusso," derives from a Greek word meaning, "to herald divine truth," that is, "to preach." In a way, the company fulfills its mission, "to preach," every time someone reads one of its shirts. By that measure, Kerusso has reached out to millions. The company's most recent initiative is an effort to bring a Christian theme author's movie to northwest Arkansas. According to a recent report on a business-to-business news website, Fibre2Fashion, Kerusso has become the official apparel partner for, "Like Dandelion Dust," a new film starring Academy Award Winner, Mira Sorvino, and based on the novel by best selling Christian fiction author, Karen Kingsbury.
Stand Out Merchandise
But the awards and the contributions wouldn't be possible without powerful products. Sweatman says that producing clever and funny designs is a company standard. "About a third of our designs are parodies that are intended to resemble things that are popular in our culture," he explains. For example, the company has parodied a popular video game with its, "Called to Duty," shirt, as well as the social networking site with its, "faith book," design. "Combining someone's passion for things that they enjoy or are involved in, with their passion for their faith, makes for a great selling product," says Sweatman.
Another factor that makes Kerusso's products so appealing, of course, is their Christian theme. "Another reason our products stand out is because there are so many people in malls that resonate with the message our product is sharing," explains Sweatman. "Newsweek did a survey and found that 85 percent of people claim to be Christian; however there are not that many products in most malls that cater to this large demographic, so our product stands out."
It stands out with retailers as well, for dollars and cents reasons. Sweatman says that the minimum order is, "just $250 on the initial order, and then no minimum order after that." The kiosk program offers the best prices the company charges. "Anyone who gets involved with the Kerusso kiosk program will automatically receive the lowest wholesale cost on our products that we have to offer," says Sweatman. "We don't have a special, because this program is special." And with these low prices, he says that retailers can expect margins of 200 percent on the majority of Kerusso's products.
For more information:
Kerusso
402 Highway 62 Spur_
Berryville, AR 72616_
Tel.: 870-423-6242_
Websites: www.kerusso.com