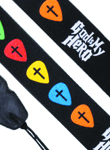 Marketing to loyal customers who know your store and your products is easy in comparison to the challenges faced by retailers with infrequent and one-time shoppers. Tourist shops, for instance, require the right products and promotions in order to make a souvenir browser into a buyer. And while Christian and inspirational products may not be a common category in souvenirs and giftware, Kerusso, Inc. reminds retailers that 94 percent of Americans say they believe in God, and 50 percent use inspirational products. For this reason, Kerusso believes its Christian themed apparel and giftware products are suitable for any location, store type and target customer. In fact, two of Kerusso's distributors have found the company's inspirational products to be top selling sensations.
Christian Themed Apparel and Giftware Hit Among Tourists
Broadway at the Beach is a shopping center located in Myrtle Beach, SC, with an annual average tourist population of 13,000,000. Among the storefronts is Vintage House, a classic and vintage memorabilia shop which opened four years ago. While the store is open all year round, general manager, Rami Alia, admits it is a unique retail business. He says, "Our greatest shopping season is summer, and even with hard economic times we continue to do well. People still go on vacation and souvenir shopping is a part of that routine." Tourist shops such as Vintage House are also faced with an uncommon challenge when it comes to promotions and marketing. "There are no customer loyalty programs. Our customers are different every day, every month and every year. We focus solely on in-store marketing and in-store specials that change on a daily basis," says Alia.
While vintage products like art frames, T-shirts and tin signs draw a crowd, Kerusso's inspirational products have made a splash at this seaside souvenir shop. It was just this March when Vintage House first decided to participate in Kerusso's Light House Apparel and Accessory Center Program. Participating retailers receive a special discount price on all merchandise, such as $8.00 wholesale for T-shirts, compared to the standard price of $9.50. An essential part of the program is a floor display tower, showcasing 10 or 20 different graphic T-shirt designs for adults or children, including the popular, "My Lifeguard Walks on Water," and, "He Loves Me," designs. "A poster of each graphic design displayed next to the associated merchandise allows for easier customer viewing and selection," adds Alia. And while the shop has little trouble moving Kerusso inventory, Alia receives a visit each week from a representative to ensure product movement. "If there is a T-shirt design not selling or selling less than the others, the rep is willing to take the item back and replace it with another," says Alia. The strong response Vintage House has received from Kerusso's inspirational products has convinced Alia to carry similar inventory in two of his other tourist shops.
Three Bears General Store in Pigeon Forge, TN, while not frequented by beach goers, sees a yearly increase of 50,000 in the population each tourist season. The visitors to this shop browse inside for multiple reasons: old time photo sessions, a Christmas shop, an ice cream parlor, a candy store and souvenirs. Newly rebuilt in 2009, Three Bears is a 40,000 square foot tourist attraction near the Great Smoky Mountains. Part of its merchandise specials is a souvenir section focused on inspirational products. After several years of carrying Kerusso's products, Tina Sucato, general manager, has come to recognize the true potential of Christian themed souvenirs and giftware. "I have to reorder every week," Sucato says.
Like Vintage House, Three Bears participates in the Light House Apparel and Accessory Center Program. On the floor, shoppers find both a display tower for adults and a similar tower for children, carrying not only T-shirts but also other giftware available at discounted prices, including bracelets and guitar straps retailing for $20 or more. These items wholesale for under $10. "The T-shirts are our best sellers, but we also carry Kerusso's jewelry, guitar picks and other gift items, all of which market well in our shop with their displays," adds Sucato. Much like other tourist shops, her general store sees an influx of sales during tourist season, which in this case is summer. Also, in-store marketing is the best chance to advertise promotions and daily specials. "As I'm sure any tourist targeted retail store will say, there are not a lot of repeat customers. At most we'll see a customer every six months or every year," Sucato notes. The only frequent visitor found in Three Bears is the Kerusso representative, who comes in to spot check inventory and take Sucato's reorders.
With decades of retail experience, Kerusso has an excellent sense of what sells and what doesn't, and both Vintage House and Three Bears can attest to the company's market knowledge. Christian themed graphic T-shirts have found a profitable home in tourist shops nationwide, because the designs easily capture the attention of customers during that very small window of browsing. The pairing of Kerusso's products with effective floor displays, which save space and speak to the quality of the merchandise, have inspired retailers to try the company's items in their stores. While innovative in how to spread the Good News, Kerusso is changing the face of the souvenir and giftware market.
For more information:
Vintage House
Broadway at the Beach
1303 Celebrity Cricle
Myrtle Beach, SC 29577
Tel. 843-946-7300
Three Bears General Store
2861 Parkway
Pigeon Forge, TN 37863
Tel. 865-453-2775
Website: www.thegreatsmokeymountainsparkway.com
Kerusso, Inc.
402 Highway 62 Spur
Berryville, AR 72616
Toll Free: 800-424-0943
Email: webcustomerservice@kerusso.com
Website: www.kerusso.com