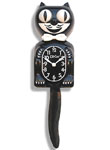 The California Clock Company is one of the few firms that can boast that their products have been made in America since the 1930s. As manufacturer of the Kit-Cat Clock for 82 years, California Clock has built both a great product and an ongoing legacy. "Everyone has a story about our clock," says Dawn Lynch, east coast sales manager. "It has become an American icon. Some people enjoy the Kit-Cat Clock because they remember it from their childhoods. Parents and grandparents buy it for this generation, because they want their children and grandchildren to know how to use a traditional clock with arms to tell time."

There have been few changes to the Kit-Cat Clock over the years. The company added front paws in 1952, followed by a bow tie not long after. The female version was born in 2001, with pearls and real eyelashes. What changes each year are the colors, with a new limited edition color released every spring for the female clocks, and each fall for the male clocks, which Lynch refers to as, "our ladies and gentlemen." This spring's inspiration was the Pantone 2014 color of the year, radiant orchid, while the fall color is to be determined. Also new is a classic black cat with black eyelashes, "to keep her classy," says Lynch.
Collegiate Collection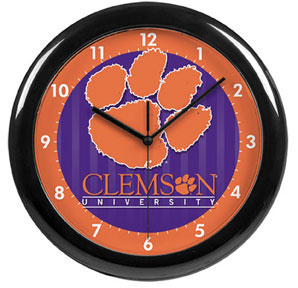 Now California Clock is branching out into the collegiate market with game day clocks, which can be ordered with matching bowties and a helmet, and 12″ round "Fanittude" wall clocks. The wholesale price is $15 and suggested retail is $29.99, with 168 collegiate logos available, "and more to come," according to Lynch. There is also a line of "Tailgater" school spirit watches, assembled in the U.S. with movements coming from the well-known Japanese company, Citizen Miyota. The watches have a stainless steel back and alloy case, and the face is emblazoned with the logo of a favorite school or team.  There are numerous other Collegiate Collection watch options for adults as well. All watches have a three-year warranty against workmanship and defect.
Buying details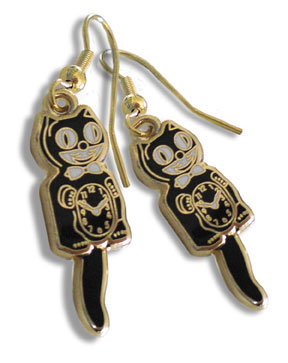 California Clock Company will participate in the Atlanta International Gift & Home Furnishings Market, July 10-14; the California Gift Show, July 18-21; ASD Las Vegas, August 3-6; NY Now, August 16-20; and the Las Vegas Souvenir & Resort Gift Show, September 17-20. "It's a fun product that makes people smile," explains Lynch. "Every trade show I go to, people want to tell me the story of their Kit-Cat Clock."
Wholesale pricing for Kit-Cat Clocks is $25 for classic black and $30 for the limited edition colors, which are manufactured for just one year. Retail pricing for all products is keystone, with suggested retail of $49.99-$59.99. The clocks are available by the case, with 12 units per case.
California Clock Company
17229 Newhope Street
Fountain Valley, CA 92708
Tel: 714-545-4321
Website: wholesale.kit-cat.com/welcome