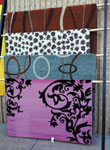 Rugnur & Co. / Maxy Home is one of the largest U.S. importers of area rugs and doormats from Turkey. "Turkish rugs are well known for their high quality materials, design, and labor," says Ibrahim Sonmez, president and CEO. Products include mid-level area rugs in a variety of sizes, as well as shapes such as rectangular, round and oval. The company also sells runners and rubber-backed doormats. The firm's most popular sellers are 5 by 7 foot rectangular and 5 foot round carpets. "As an example, some of our 5 by 7 foot area rugs wholesale for $15 and can retail for $39, but retailers can easily sell them for $29 and still make 100 percent profit," Sonmez explains. "We keep our profit margins very low, so in turn our retailers can make a favorable profit. Their customers get a very good item at a very affordable price, so everyone is happy." Rugnur & Co. / Maxy Home continues to expand, and is preparing to launch a furniture line. "We are very excited about this upcoming line," Sonmez adds.
Customer service & sales strategies
Sonmez began selling rugs in 2010. "I used to buy area rugs from a local wholesaler and deliver them to my customers in a blue Chevy van. Every time I made deliveries, I tried to help my customers by sharing my sales strategies and ideas with them. Through this, I formed strong partnerships." In a short time, Rugnur has grown its line and expanded the sales force, but clients still remember Sonmez' hands-on customer service. "Nowadays, when my sales reps visit a customer, they say, 'Oh, you are the guys with the blue van!'" Today, Rugnur / Maxy Home serves retailers with two distribution centers. The firm has a 100,000 square foot warehouse and $5 million in inventory, with 95 percent of goods in stock.
No minimum order
Rugnur / Maxy Home cooperates with its retailers' budgets, and so as not to limit their purchasing power, there is no minimum order. The firm has created displays for its runners and area rugs. "With a satisfying order, we give our displays as a gift to our retailers. They will sell more with these displays," Sonmez points out.
Rugnur / Maxy Home
52 Iowa Ave.
Paterson, NJ 07503
Tel.: 212 871 8989
Website: rugnur.com