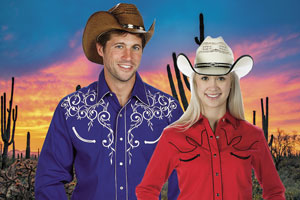 From belt buckles and cowboy hats to jewelry and apparel, Western Express offers a wide variety of quality western products that are sure to make your store stand out. Perfect for country, western,  tourist, and gift shops, they are here to make sure your shelves are stocked and your customers are satisfied.
Quality Western Products
Western Express is a wholesale distributor of country western accessories and related merchandise. Founded in the late 1970's, they are a second generation family-owned business and have built their reputation on quality products, fast and reliable shipping, one-stop-shopping, and excellent customer service. No matter the types of treasure you sell, Western Express is sure to have something unique for you to present to your customers.
Best-Selling Accessories
Some of Western Express's best-selling products include their infamous cowboy hats, handwoven serape blankets, bandanas, retro western shirts, bolo ties, belt buckles, and collar tips. All of these accessories can complete any western outfit and bring out the true cowboy in your customers. The brand also has a Closeout section on their website for items that have been marked down, so be sure to check that out to save your business some extra money when ordering quality products.
If you are interested in selling Western Express merchandise in your store, register for a wholesale account on their website at www.wexpress.com/register.jhtm, or give them a call for more information at 800-245-1380.
Western Express
400 Commerce Blvd, Suite B2
PO Box 572
Lawrence, PA 15055
www.wexpress.com