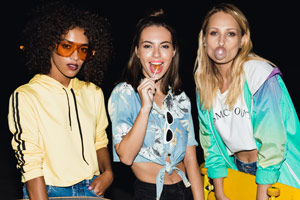 As the luxury fashion market is forecasted to grow to $383 billion in 2025, retailers must leverage data in order to respond to these critical shifts in the industry. The trends that COVID brought along for the ride are finally beginning to change — meaning work-from-home styles are no longer popular as shoppers trade out their sweats for blazers.
Retail intelligence platform leader EDITED has looked at its platform of over four billion SKUs in order to identify the top five themes shaping the future of fashion:
1. Streetwear remains king within major categories.
The categories continuing to see year-over-year growth in fashion include sweatpants by 59 percent, sweatshirts by 26 percent, and T-shirts by 14 percent. Further, streetwear brands are increasingly added to third-party luxury sites. The number of styles by Fear of God and Stone Island stocked at MR PORTER swelled 680 percent and 81 percent year-over-year, while White Mountaineering grew 101 percent at FARFETCH.
"It is nice to see this revival when you think about where things are going with streetwear and the category growth," Juliana Prather, CMO at EDITED, said. "It is about the consumer's desire for wanting upgraded and luxurious fabrications in terms of streetwear — not just going and grabbing something off the shelf to be comfortable, but looking for something as it relates to streetwear."
2. Investment in traditional workwear is back in full swing.
This is evidenced by tailoring incorporated at Dior Homme and Valentino's runway displays, as well as year-over-year blazer arrivals being up 22 percent. In the fashion market, new shirt arrivals rose 16 percent and blazers by 22 percent year-over-year, while court heels outpaced 2021 levels by 13 percent.
"As consumers are going back into the office, we are seeing a tailored approach as to how they are dressing and balancing that with streetwear," Prather said. "In traditional workplaces where you cannot wear a hoodie into the office, we are seeing this as an area for continued growth."
3. Brands are starting to accommodate larger sizes.
Options ranging above an XL for women increased 130 percent year-over-year, and 2XL for men up 348 percent year-over-year. However, these sizes are only available in seven percent of womenswear and four percent menswear, underscoring the need to serve this long-ignored consumer.
"Luxury brands have really started to accommodate larger sized customers who are above an extra large, which was not the case before. It was exclusive not only from a price point, but also with sizing, so it is becoming more inclusive there. We expect more growth and opportunity in this area for brands to continue to increase their sizes," Prather said.
4. Animal-free luxury alternatives are more common.
Animal hides are no longer viewed as a status symbol, bumping the fur investment down 27 percent and exotic skins by 42 percent year-over-year. Though calf and lambskin remain core materials, animal-free luxury alternatives are becoming more commonplace as "vegan" leather options are explored, up 20 percent year-over-year.
"When we look at what is happening with animal-free, we know that real fur is frowned upon, which has brought fur investment down as well as exotic skin," Prather said. "Vegan leather options are continuing to be explored, and our data shows that it is up."
5. The metaverse is fashion's new frontier.
Forty-two percent of brands mentioning the metaverse and non-fungible tokens within the past year on landing pages, as well as within emails, have been luxury players. Virtual realm Decentraland hosted a four-day Metaverse Fashion Week in March 2022, with Dolce & Gabbana, Hugo Boss, Etro, Gary McQueen, and more participating.
"Regardless of the type of player you are in the fashion industry, it is important to have a presence in the metaverse. The non-fungible tokens space also presents a large opportunity for brands to continue to grow their business," Prather said.