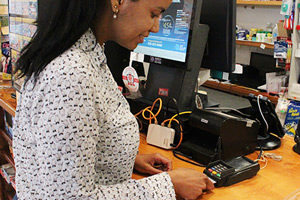 Times are tough, especially for businesses struggling to stay afloat with the increased expenses from credit card processing companies. Unfortunately, these companies are taking advantage of retailers when they should be helping boost the morale of businesses. Whether you are a gift shop, c-store, service provider, or gas station owner, you can easily fall victim to high credit card transaction fees, and sometimes even hidden surprises debited right out of your bank account.
National Retail Solutions (NRS) offers NRS PAY credit card processing to help merchants with this problem. With NRS Pay, retailers will get a FREE credit card reader, have ZERO hidden fees, NO long-term contract, and NO early termination fee. If businesses use a point-of-sale system such as the NRS POS, NRS Pay is an excellent complementary tool to the POS to help merchants have a seamless checkout experience. Integrated credit card payment acceptance from an honest company helps sellers organize, attract customers, save, and make more money.
Helping Small Businesses Thrive
In an industry of companies taking advantage of mom and pop businesses, NRS PAY offers a rare commodity: integrity. NRS PAY was founded three years ago as a service of National Retail Solutions, the leading USA provider of point of sale (POS) systems. Elie Y. Katz, president, and CEO of National Retail Solutions, says, "NRS PAY is an antidote to the credit card processing crisis facing small independent retailers. Many small independent businesses have suffered due to COVID and big-box competitors pushing them out of business in the neighborhoods within which they have always relied upon loyal customer foot traffic. We founded NRS PAY within our mission of helping these businesses survive and thrive. Our commitment to transparency is exactly what the little guys need and should serve as a lesson to the broader industry of how good business is conducted."
Multiple Programs to Help Retailers Save Money
To help combat rising fees and transaction expenses for retailers, NRS PAY also offers its unique FeeBU$TER program. Like popular cash discount programs, this plan passes along a credit card transaction "service fee" to the customer so that the retailer does not have to sustain transaction expenses. With no monthly account fee businesses processing over $18,000, and ZERO out-of-pocket transaction fees, the plan could be 100% free. If a merchant processes lower volume, FeeBU$TER carries one flat monthly fee of $49.95 and still $0 transaction fees. NRS PAY also offers its classic Clean Rate Plan.
"Customers get mileage, rewards, and points for paying with credit cards, but the merchants have been paying the price — and that is not fair," Katz said. "So now, passing along the transaction fee to the customer has become a lot more mainstream and acceptable. Customers do not mind paying a small fee for being able to use a credit card and get their perks. FeeBU$TER is truly a win-win for retailers and their customers."
Game-Changing Credit Card Processing
With whichever plan a business chooses, the retailer gets a free credit card reader with NRS PAY's zero hidden fees policy — plus no long-term contract locking them in and no early termination fee. Early termination fees, buried within fine print and a long contract, can be $300 or more. NRS PAY is committed to allowing customers to choose their processing without risk and any penalty if they decide to go elsewhere.
NRS PAY credit card processing is a game-changer. According to Major League Baseball superstar and Hall of Famer Mariano Rivera, "NRS PAY is changing the way we do business — somebody has to!" Under its parent company IDT Corporation, headquartered in Newark, New Jersey, NRS Pay stands by ethics and offers a comforting payment acceptance platform for retailers who need a solution that will not hurt them with hefty transaction fees and surprise penalties.
For information about NRS PAY, visit nrspay.com or call 833-289-2767.