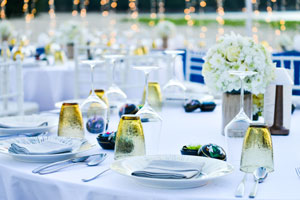 Wedding Wire's latest trends report states that in 2021, almost two million weddings took place in the U.S., a number that is expected to increase to 2.5 million by the end of 2022. This year will play host to the largest number of weddings since 2018, and today the average cost to attend a wedding is roughly $3,000. Factoring in an average attendee size of 105 guests, that means roughly $315,000 is being invested in each wedding this year.
That being said, more than half (57%) of consumers are emotionally invested in the online shopping experience, and with nearly five-out-of-ten (47%) noting clothing as the category that they feel most tied to, this creates an immense opportunity for apparel retailers to capitalize on the wedding season. While an opportunity, it is also a risk — especially battling the current supply chain, inflation, and inventory problems the industry is trying to dig itself out from. Brands will have to adjust their strategies and take steps to mitigate these risks by strengthening and transforming the customer experience.
Here is how you can do just that:
Evaluating Your Returns Process
Returns are an inevitable part of the shopping process, and in 2021 the average rate of online returns was a startling 21 percent. To date, fashion/clothing has been reported as having the highest return rate in 2022 at 26 percent of total returns made in U.S. retail. For consumers, wedding season can be a scramble to find the perfect outfit, often resulting in multiple purchases from more than one retailer, creating higher opportunity for returns.
Providing a streamlined, personalized, and convenient returns management process will be crucial for retailers in this space, as it is usually the final touchpoint with the customer and provides an opportunity to secure their loyalty/consideration for future purchases. Returns, while often costly for brands, can also be a huge pain point for shoppers who are eager to recoup their money quickly. Therefore, it is imperative that the process be constantly evaluated and optimized to ensure it meets current customer expectations.
One way of bolstering this last mile experience is by owning the process end-to-end. Unfortunately, many retailers need to rely on third party logistics to communicate the final leg of their returns process, losing out on additional touchpoints to fully engage with the customer, such as WISMR (where is my return) or addressing refunds in a proactive manner. Brands that invest in their returns customer experience journey are five times more likely to drive repeat visits to their site or receive higher customer satisfaction scores.
Over Communicating With the Customer
Delivery expectations are one of the largest challenges the ecommerce sector is experiencing, which can be remedied through the implementation of technology, and can also act as a solution for retailers struggling with the realities of today's fulfillment cycle. Knowing the emotional investment that goes into the last leg of the customer journey — 63 percent of consumers have stated that the post-purchase journey is the most emotional — implementing an experience platform that can automate customer communications around order confirmations, shipping, delivery, and returns can not only put the customer's mind at ease, but when there is a hiccup, having a direct line of communication means the ability to level-set expectations around the order.
Shipping and delivery notifications have some of the highest email open rates, which means an opportunity to create additional shoppable moments for the customer. If a consumer is receiving out-of-stock messages or experiencing delays in shipping, this is the perfect opportunity for the retailer to suggest alternate, yet reliable, solutions that will keep the shopper happy. Harnessed through customer data, this can be in the form of personalized suggestions for similar items, for out-of-stock products, or discounts applied towards shipping to make up for unforeseen delays.
The 2022 wedding season is underway with a saturated and competitive market, supply chain disruptions, and high inflation rates. Retailers need to discover the gaps that already exist in their customer experience and anticipate the challenges that are expected to continue throughout the season. Acting now to evaluate and dramatically improve their returns process is the only option to keep consumers happy, increase their bottom line, and will ultimately set brands up for success for the rest of the year and into 2023.
Tobias Buxhoidt is the CEO and Founder of parcelLab, where he leads global business strategy and is focused on bringing the parcelLab platform to brands across global markets. In 2015 he co-founded parcelLab to create a platform that would help brands build engaging customer experiences around complex operational processes and data.