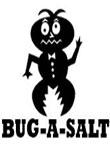 The Bug-A-Salt works on a very simple, very original idea: it shoots a tiny pinch of ordinary table salt with deadly accuracy at flying insects, killing them instantly. From a distance of two to four feet, the gun shoots a six to eight inch shotgun pattern, making it easy to target flies, mosquitoes, and other flying insects on screens, windows, light fixtures or tables. The Bug-A-Salt can also kill more menacing insects, including wasps and roaches, but it takes a direct hit at closer range for the really big bugs.
After months of placing the Bug-A-Salt salt gun in retail shops, John Hollenberg, who handles the company's marketing and sales, has learned a thing or two about what makes the product so attractive. "In all the time I have been selling this product, I have not met anyone who is a big fan of flies in their food, so everybody has a reason to like it," he points out.

The Bug-A-Salt came to market in 2012 after three years in development. The product was created by Lorenzo Maggiore, a California artist and surfer who, "really hates flies." While Bug-A-Salt is deadly for flies, it is safe around humans, has less power than an ordinary BB gun, and will not break the skin. "But it kills flies every time," Hollenberg says, "and kills them two ways. The salt kills them from impact, and kills them from the inside. And unlike with a fly swatter, it does not destroy the fly, so there is nothing to wipe up afterward. You just vacuum or dust-buster them up. It's useful and fun."
Demonstration DVD
The product is a natural fit for gift shops, and also does well in hardware stores and any kind of kiosk where people can see it in action. In fact, Hollenberg says the Bug-A-Salt basically sells itself, as long as people can see it operate. To make demonstrations easier, the company offers a DVD and downloadable videos on its website, showing the Bug-A-Salt taking down flies and airborne pests. "We have found that showing what it does is the best way to sell the product," Hollenberg notes. "The packaging explains everything, but people don't really get it until they see the video. The best thing you can do is put the video on a loop on a tablet or TV, and have a display model out. It really gets a lot of attention and makes a great gift."
Ordering and pricing
Manufactured by Skell Inc., the Bug-A-Salt is available for wholesale ordering through Hollenberg. A DVD is included with orders, but the company does not offer sales displays. Wholesale guns are shipped in a retail-ready package that measures 24″ wide. Pricing begins at $23.97 per unit, with a minimum order of 12 units for new customers. Returning customers have a minimum order of 24 units. The suggested retail is $39.95, although some retailers sell at a higher price point. Volume discounts and pallet rates are available.
Skell Inc.
2401 Lincoln Blvd., Suite C
Santa Monica, CA 90405
Phone: 818-835-0697
Website: www.bugasalt.com