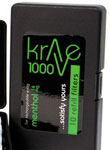 Vapor Corp., a South Florida based electronic cigarette (e-cig) supplier and marketer, was founded by a team of veteran entrepreneurs with extensive experience, ranging from product and brand development to manufacturing and sales of various consumer products. Now as a leading and only publicly traded (OTCBB: VPCO) electronic cigarette distributor, the company sells its e-cig vaporizers internationally and domestically to wholesalers, directly to online consumers, as well as to convenience stores, tobacco shops, kiosks and many super markets and chain stores. The electronic cigarettes alternative has rapidly become popular amongst the smoking community, with the promise of eliminating the harmful chemicals found in traditional cigarettes, as well as the odor and second-hand smoke.
Vapor Corp's philosophy can be summed up in one word: quality. In a market with fierce competition, Vapor Corp. maintains its integrity by offering the best prices possible for top quality products. "All of our rechargeable batteries are long lasting, as well as backed by a lifetime guarantee," says Adam Frija, director of business development. "The target consumer is any smoker looking to wisely try an alternative to smoking traditional tobacco cigarettes." Vapor Corp. offers its e-cig vaporizers in two forms: rechargeable e-cigarettes and disposable e-cigarettes. Among its brands, Krave®, Smoke 51®, Green puffer®, and VaporX® are some of the most popular. New to the market is Krave1000/Krave1001, a complete retail rack ready, rechargeable e-cigarette program for Krave® vendors. Simple to use and simple to sell, Krave® is the favorite amongst e-cig users, for its taste and design. Krave1000/Krave1001 is available in four varying nicotine levels and in tobacco and menthol flavors, along with starter kits and charger accessories. Krave® is priced right, with maximum profitability for the retailer and maximum value for the consumer, which keeps them coming back for more.
Krave1001 is an extension of our Krave1000 Rechargeable product that Vapor Corp. offers in a plastic molded carrying case, in either a starter kit or as 10 pack refill filters in tobacco and menthol flavors, each with an MSRP of $24.95. Many retailers requested something that was a lower price point, and so Krave1001 was born. Krave1001 provides a comprehensive product line-up consisting of a starter kit (without the plastic carrying case), a five pack refill of filters (in tobacco and menthol), and available in four nicotine strengths rather than Krave1000's single one strength, as well as car charger and wall charger adapters. The suggest retail for the starter kit, five pack of filters and charger accessories is $19.95, $12.95 and $9.95 respectively. All products are packaged on compact blister cards that are universal in size across all products in the Krave1001 line-up, allowing for maximized product merchandising.
With no minimum order, All Krave1001 products come in Compact Point of Purchase "POP" Boxes. Starter kits and refill filter POPs come with 10 units. Charger accessories come with five units in the POP display box. Additionally, Vapor Corp. offers full counter displays that allow retailers to nicely display and sell the company's products while providing a full range of Krave e-cig options, including the large variety of disposable e-cigs, including, flavors, tattoo inspired, bold nicotine, dual light, and others. There is flexibility on volume based discount pricing.
For more information:
Vapor Corp
3001 Griffin Road
Ft. Lauderdale, FL 33312-5649
Tel.: 888-SMOKE-51
Website: www.vapor-corp.com