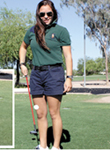 If you've ever jealously watched those golfers who can endlessly bounce a golf ball on the edge of their club without dropping the ball, your time has come. Krazy Wedge is the brainchild of golfer, Bob Ferguson, who took a complicated idea and made it simple by putting a little dovetail hook on the end of a wedge so you can scoop your ball and start bouncing it immediately. "It builds your hand-eye coordination and encourages you to keep the club in your hand all the time," he says. "You start from the ground, flip the ball up and then you're going," he says. Ferguson debuted his idea at the PGA Fall Expo in Las Vegas, and the response was instantaneous. "Everyone loved it," he says. "People saw it, and then went and got their friends and brought them back so they could see it too," he adds.
The Krazy Wedge currently retails for $39.95, yet wholesales for only $18.50 for a minimum box of 12 in the master pack. As the company only recently launched, Krazy Wedge doesn't yet have a freestanding display, but they do offer a flyer showing how the product works. "It's pretty self explanatory," Ferguson says.
"Golfers look at it and immediately get the idea." Apparently a lot of other folks do as well. Ferguson says he's getting high interest from companies big and small, including the PGA itself. "No one else has this product, and I've got the patent pending on it," he notes. The club is made of lightweight aluminum so golfers can practice their balancing skills without their arm getting fatigued, and the sleek black finish makes it easy to keep an eye on the ball. The Krazy Wedge is packaged in a blister pack suitable for hanging and taking up minimal shelf space. The club is prominently featured in the clear package.
For more information:
Sportsjack LLC
P.O. Box 524
Eloy, AZ 85131
Tel.: 520-840-1961
Website: www.krazywedge.com