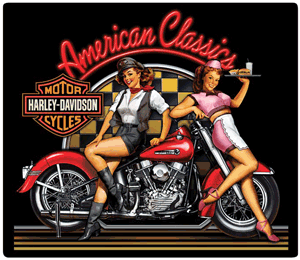 Ande Rooney Signs give you that nostalgic, proper Americana feel that will take you back to the good 'ole days. Featuring licensed signs from Coca-Cola®, Harley-Davidson®, PepsiCo®. and other famous brands and trademarks from yesteryear, this company has the perfect sign to suit the aesthetic of any store. Ande Rooney's top quality and craftsmanship set them apart from all other companies.
Taking off with their idea in 1980s, Peter and Ande Rooney combined their passion for art, history, and design into a business that could trace the rich entrepreneurial spirit of American ingenuity through company logos and advertising slogans. On top of their exclusive Ande Rooney original designs, the company offers licensed and trademarked signs that reflect a true Americana style. The HJ Heinz Company was Rooney's first license with the reproduction of the round paper pickle barrel label as a sign made in porcelain enameled on steel.
The Ande Rooney Tin Sign Collection consists of highly embossed tin plates, resulting in beautifully crafted signs with depth and character. These collectible signs are painstakingly crafted with authentic detail to reproduce original classics of today's most recognizable marks.
Ande Rooney signs are perfect gifts for anyone who appreciates the American entrepreneurial spirit when advertising had wit, charm and old fashioned sensibility. By keeping that retail sweet spot between $14.95 and $19.95, customers won't be able to say no to these high quality signs. They are the perfect products to stock up on for every day gifts. Apply for a wholesale account on their website and start selling Ande Rooney signs in your store!
Ande Rooney Inc.
3 Lumen Lane
Highland, NY 12528
Tel.: 845-691-2260
Website: www.anderooney.com