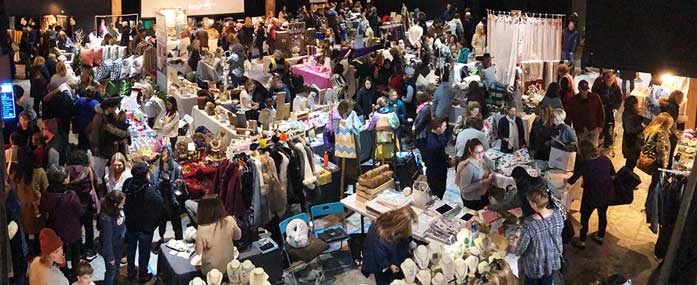 Last December, PopShop's Annual Winter Market certainly popped. The local indie market is held twice a year in the summer and winter, and features dozens of local retailers, makers, and businesses. Held in a event space locally known as "The Warehouse," the market all but stopped traffic downtown from 10am – 3pm in Fairfield, CT. Hundreds, if not thousands, of people flocked to the Warehouse to shop local at the PopShop market. Despite being next to a commuter train station and surrounded by plenty of parking, eager shoppers circled the lot hoping to find an empty space.
At the front doors, lines of people were waiting to funnel in. It's a good thing that the Connecticut winter hadn't set in yet, because there were at least eight retail vendors stationed outside the front doors, which certainly helped ease the crowds. Inside, two floors of apparel, handcrafted accessories, handmade beauty products, and locally inspired home goods caught the eyes of shoppers eager to support neighborhood businesses. The Warehouse also has a built-in bar, which was tended by multiple employees and serving up tasty brunch drinks.
Here at Independent Retailer, we often tout the power of an excellently executed pop-up market. Here are some takeaways from one of the most successful pop-up shops we have seen in a suburban community.
Location, Location, Location
Popshop Market is located in downtown nearby plenty of other shops and restaurants, perfect for snagging passersby and luring in out of town shoppers who want to make a full day of the trip. Popshop Market is also located right next to the Fairfield train station, providing super easy access to the market for visitors coming from New York City or other towns along the Connecticut shoreline.
The warehouse space itself has high ceilings and a loft on the second floor, perfect for placing dozens of vendors without crowding the space. Plus, the venue has a bar that runs alongside one whole wall of the venue, which certainly helped shoppers stick around a little longer.
Teamwork
Perhaps the most important ingredient for pop-up success is collaboration. Popshop brings together independent retailers, makers, and inventors from throughout the state offering a very wide variety of products. Having multiple kinds of products ensures there's something for everyone — which is important when planning an event that is meant to be for the whole family. Incorporating so many different retailers also helps the market advertising reach a much bigger audience than it could have alone. If every vendor is promoting the event, the market can advertise to a huge number of active customers without having to spend really any money.
Create a Theme
The best pop-up shops have a central theme. In this case, Popshop Market was centered around Christmas and the winter holidays. Having a theme provides cohesion among vendors, provides direction on how to decorate and market the event, and gives shoppers a sense of timeliness and purpose. If you're looking to plan a pop-up in 2019, other popular themes include Valentine's Day, Girls Night Out, and Mother's Day.