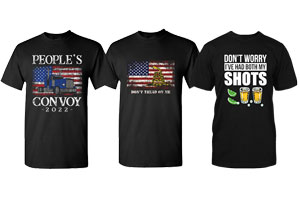 With hot sellers like pro-Brandon and Trump paraphernalia, Bigly Wholesale has everything your store needs to show off your American pride. From t-shirts and sweatshirts to tote bags and other accessories, they have a little bit of everything.
High Quality Political Products
Bigly Wholesale has been around for quite some time and decided to start offering wholesale in 1990. About two and a half years ago, the brand began selling political apparel and accessories, which soon became one of their more popular collections. Now, Bigly Wholesale has built up a wide variety of political merchandise for American retailers to proudly show their love for our country.
Stock Up on Best-Sellers
Some of Bigly Wholesale's best-selling merchandise is their 'Let's Go Brandon' line. Available in hats, t-shirts, sweatshirts, and face masks, this line has been surprisingly popular and keeps on selling. There are about 10 different designs for t-shirts and sweatshirts, and then of course accessory items to match the apparel products and help spruce up your in-store displays. The company utilizes Gildan, Fruit of the Loom, and Next Level clothing to offer customers the ultimate comfort while representing the Republican party.
5 Star Customer Support
Bigly Wholesale prides themselves on their customer support and high quality products. They always make sure to stay ahead and respond to customer needs, so retailers can rely on them to answer any questions about your ordering process. Not only do they offer great customer service, but they continuously keep a large inventory at hand that can be shipped out quickly. From beginning your search on their website to receiving your order, Bigly Wholesale has your back.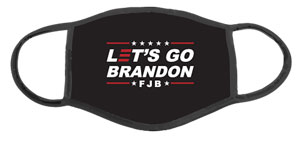 To see more of what the company has to offer, visit their website at www.biglywholesale.com.
Bigly Wholesale
505 E. Market St.
Lockhart, TX 78644
512-376-4441