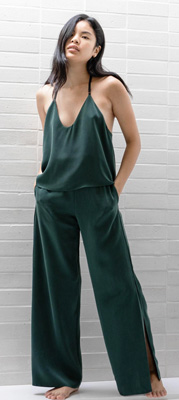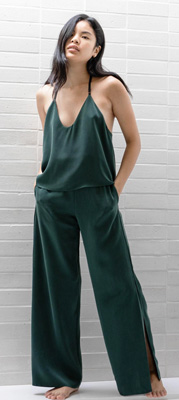 Fitted with a plush bed, minimalistic interior from local artists, and a dining room, Ashley's goal is to put shoppers in the mindset of where they'll be using her products most – their bedroom. Lunya (www.lunya.co) is a luxury sleepwear company that designs products crafted to make customers feel comfortable in their most intimate space, and now the owner is taking that comfort to a whole new level.
Ashley Merrill, CEO and founder of Lunya, has created an intimate shopping experience in an effort to never lose touch with the women she serves. She has three different brick and mortar stores that are styled as bedrooms, with everything you can think of that would be in your own home.
"The bedrooms are basically almost like apartments with a lounge area, bed, kitchen table and everything that's in a studio," Ashley said. "What I like is that they're all just a little different. They have similar designs, but are just different enough so they're inspiring and customers can see something new and maybe get some ideas on decorating their own home. We're creating the perfect off-hours vibe."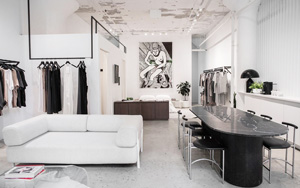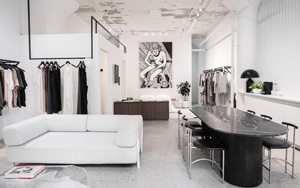 Lunya's bedrooms are located in Los Angeles, Brooklyn and New York. The LA bedroom serves double duty as their HQ and retail space. In a closet full of washable silk, there's also a whiteboard session and brainstorming going on. This experience helps Ashley's goal of not just selling a product, but also a lifestyle to the women she serves.
Established in 2014, Ashley went on a journey to find comfortable, flattering sleepwear after catching herself in a mirror wearing her husband's old frat t-shirt and rolled up boxer briefs. After coming up dry, she then made it her mission to provide women everywhere comfortable sleepwear that they could also feel confident in.
There's no substitute for being able to touch and try on a product, especially for high quality goods where customers need that personalized interaction. Ashley realized that to be able to establish a relationship with a new brand, that personalized interaction is super important. She's seen a confidence in her customers when purchasing in-store, which creates a domino effect for being able to purchase something online later. Once customers have established that level of confidence in a brand, they feel more comfortable with buying online, but that first experience is necessary.
"Our feedback seems very positive," Ashley said about their new bedroom spaces. "We get positive write-ups from every store every day, and most people rave about the experience. We're giving people different ways to shop that resonate most with them, for the brick and mortar retail girl."
Even Ashley's employees seem to like the bedroom experience. The important thing to keep in mind is keeping each store different and unique, so customers don't experience the same thing twice at two different stores. It can get boring seeing the same things over again in every store, so make sure to give customers a reason to shop in-store.
Something for indie retailers to keep in mind is forming your store around what your customers want. As Ashley learned more about her customer base, she opened up her bedroom brick and mortar shops as a way to personally connect with women and in seeing the good feedback, she plans to open more stores in the future. There is only so much you can do with an ecommerce channel, but giving consumers that personalized experience in-store can make all the difference in the connections you make